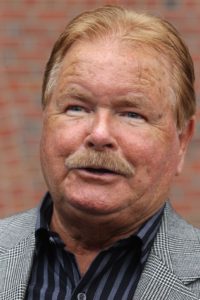 What do we say about federal prosecutor Fred Wyshak who has information that FBI agent Robert Fitzpatrick who was the assistant special agent in charge at relevant times believes that FBI Agent John Connolly had nothing to do with the murder for which he will spend the rest of his life in a Florida prison but he fails to disclose this information to John Connolly but instead hides it.
Here's what Wyshak knew:
On Thursday, July 6, 2006, at 4:37 p.m.  A memo was sent from James Marra from the Office of the Inspector General to Fred Wyshak and Mike Von Zamft the prosecutors of Connolly.  It read:
"Fred/Mike: 
Bob Fitzpatrick voluntarily called me this afternoon.
Bob stated that he may have a potential terrorist financing matter that needs federal investigation. I referred Fitzpatrick to the FBI and/or ICE. He stated that he would call FBI SAC Ken Kaiser directly.
Fitzpatrick also stated that it was his personal "opinion" that John Connolly was not responsible for the Halloran and Callahan murders. However, he offered no specific information to support his opinion and agreed that he was not privy to all the evidence in the Connolly murder prosecution case in Florida. Fitzpatrick added that he has no information that Connolly did or did not reveal FBI informant identities to Bulger/Flemmi.
Fitzpatrick stated that he never heard that Connolly was leaking information while he was the ASAC (approximately 1/81 – 9/86) in Boston. In contrast, while serving as an ASAC and later as a SA (9/86 – 12/86) he did hear that SAC Ahearn and SA Hargraves were leaking information. Fitzpatrick added that Hargraves was never properly investigated by the FBI.
Fitzpatrick stated that he did not believe that Flemmi or Weeks were telling the truth about Connolly. Fitzpatrick stated that he would re-contact me if he recalled anything specific that would exonerate Connolly.
I informed Fitzpatrick that he may be a potential witness for the government or the defense in the Connolly murder prosecution in Florida.
Jim"
Why was Connolly not provide the opportunity to follow-up on this. Isn't this crucial evidence that would support his defense that he had nothing to do with leaking the information? Shouldn't he have been given the opportunity to see what was it that made Fitzpatrick believe two major witnesses against Connolly were not telling the truth. Of course it should have been provided to him to use in whatever way he wanted. What does it say about Fred Wyshak that he hid it from him? How can he live with himself knowing Connolly will most likely die in a Florida prison and he deprived him of information to contradict witnesses against him.
Remember that Agent Robert Fitzpatrick  would  testify in the trial of Whitey Bulger for the defense. After the 2013 trial he was indicted for perjury by Wyshak. He would eventually plead guilty to the charges – I never thought that he would because the alleged perjuries had no bearing on the trial and were far from material and Fitzpatrick stated he would fight all the way – because at age 75 he did not want to serve time which he would get if convicted but by pleading could hit the street with probation.
All seemed surprised at the charges. They seemed out of course since Bulger had been convicted. But now one has to wonder if the charges were motivated by keeping Fitzpatrick silent about the memo he had sent.
Five years after the memo date on July 7, 2011, and after Connolly was convicted in Florida, Fitzpatrick was interviewed by WBUR in Boston. He may have forgotten about the memo. He was writing a book. He said about the killing of Brian Halloran who was an informant for the FBI:  "But in the interim, the information was leaked — I don't think it ever came out in court positively who leaked it, although I think Connolly was named . . . . And this would go on, incidentally, I would have four of my informants killed in this way, and as it turned out, all by Bulger." 
Yes, Fitzpatrick is all over the place. He impugns Connolly to sell his book; prior to that when he has no monetary motive he clears him. None of that matters though. The prosecutor is obliged to give all evidence that may exonerate a person to him for him to decide what to do with it. This was not done here. Why?