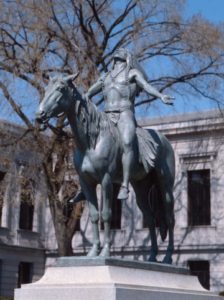 How can anyone forget Hamlet's dilemma as he stood looking at his father-in-law wanting to murder him but fearful if he did when he was praying he would go straight to heaven. The king was bent over in prayer but was not thinking. He was lamenting: "My words fly up, my thoughts remain below: Words without thoughts never to heaven go." If Hamlet could only have heard his thoughts he might not have stayed his hand.
That is one thing that those who pray have to wonder about. How much attention must you pay to your prayers. If you are just mumbling the words you learned by rote without paying attention to each word are you praying or just wasting your time?  If you think about it, what is the prayer that you most recite? Do you understand the words you are uttering or just saying them as if reciting the alphabet.
Now it seems if the prayer you say is the Lord's Prayer then perhaps you've been saying it wrong all these years. You start by addressing God by stating "Our Father" and then go on. You eventually arrive at a point where you say, "and lead us not into temptation but deliver us from evil."
What if I told you that is wrong. You probably would not believe me but what if Pope Francis said you were wrong. Well that's what he is now saying. He says the words "lead us not into temptation" are not proper when directed at God. The Pope says that God does not lead us into temptation but the Devil or Satan does.
That sort of presents a quandary. If we don't want to be led into temptation and it is Satan who is the one who does that do we want to be praying to Satan? I think not. First, I don't think one should be asking Satan anything; and least of all if you asked Satan not to lead you into temptation Satan surely would.
Pope Francis says that lead us not into temptation is not a good translation. The words we should be saying are: "do not let us fall into temptation." He noted about the French Catholic church that: "T]he first Sunday of Advent a new translation of the Our Father will come into force in all forms of liturgy. The Catholic faithful will no longer say: 'Do not submit to temptation' but 'Do not let us enter into temptation.' " 
Not being much of a theologian myself I cannot but think this sounds like the disputes that some say at one time or another happened in the Church over the question of "how many angels could dance on the head of the pin." It seems to me too many people have too much time on their hands to be even thinking of these ideas. It's sad to say that it seems to me Claudius had a better grasp on theology than the  Pope.
I'm sure God is not concerned whether we say "lead us not into temptation" or "do not let us fall into temptation." Whatever we say He will understand our intentions and what is in our thoughts and our hearts. He's concerned with our deeds and lack of deeds. If as the Church teaches God is omniscient then the Pope should understand that God understands what we mean when we ask not to be led into temptation even if it is not an absolutely correct translation of the prayer from the Bible.