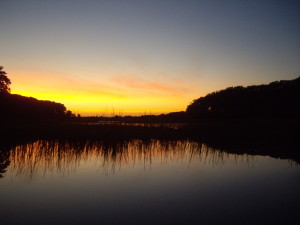 I know the Red Sox still play baseball because the other day I saw that the Red Sox won a game. It received front page coverage. I understood that because the owner of the newspaper also owns the Red Sox so he must insist, if he is a good business man, that his many interests work together on his behalf.
When I was a young kid I knew the names of every player on that team. I followed them closely for many years but recently my interest not only waned but it disappeared. Now I know the name of one player called Big Papi and what I know of him is he is a clutch home run hitter who is going through his last hurrah.
My involvement with the Red Sox for many years has many good memories. It was sort of like my involvement with the stock market. When they won (or it went up) I had a little extra bounce in my step and the day seemed more fair; when they lost (or it went down) I'd be a little out of sorts and things looked rather gloomy. I forget which of those monkeys I first got off my back but eventually I went cold turkey on both. Life is so much better when you do not let things you have no control over affect you.
Maybe that is just me. But as much as the Red Sox have gone out of my life, and by the way that happened before they won their first World Series back several years ago, the memory of following them still provides pleasant memories.
When I was single and hanging around the corner of Sydney Street with other fellows we would sometimes kill an afternoon by going to the Bleachers before the cursed monster the Red Sox Nation came into existence. Those were the days when they would fill about one-third to one-half of the park and you could sit anywhere in the Bleachers where you liked. When they started selling out the games it took a lot of spontaneity out of going to them. You could no longer say to a friend on a summer morning "let's go to a Sox game today."
For a couple of years before my children reached their teens I had access to tickets that let me sit in the four seats in the first row to the right of the Red Sox dugout. Jim Rice, I remember him but there were others, would lean out of the dugout and hand candy or gum to the kids and talk with them. It was exciting for them and me to be so close to the action and get to know the players.
Another memory of going to the games was the time in early spring when there was a Sox-Yankee game and their best pitchers were opposing each other. Tickets were almost impossible to get.  I got to the game by a friend of a friend of a friend who had one. You could not squeeze another person in the park and those who were there felt lucky. I went up between innings to get something and out of the weather for a moment. It was chilly as it can be at that time of year.
I hear "hey, Mattie!" I turn around and see Harry B. He's standing in a white tee-shirt oblivious of the chill. The last I heard of Harry he was doing a big bit at Walpole. I wondered had he escaped. He did call me one morning years earlier around 3:00 am when I was a defense lawyer after he escaped from police custody looking for advice. We chatted for a few minutes. He left as quickly as he appeared. I'll swear to this day that some person who thought he had his Sox tickets for that game safely stored away in his house spent the day wondering where he put them.
Empty bleacher seats, kids next to dugout, and a chat with Harry are my memories of Fenway Park along with standing up back behind home plate with Sammy, a beer and hot dog. I have no memory of the names of the players or the score of the games.