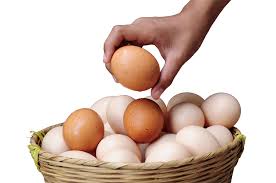 The Boston Globe had an article the other day that I thought worth following up on by posting its main points here. It is a good time to read about and ponder them because I expect most of you will while your time away in unproductive activity in front of the TV this Sunday because the Patriots, Red Sox, and Debate games are being played. (The latter may be cancelled if one of the teams does not show up.)
If you consider this during commercial breaks then your day may be more productive.
I once read a wise and wealthy man talk about his way of making money. I firmly believed this is the way to do things although I caution that we must not make money our sole goal. Charles Russell a preacher's grandson had it correct when he said "the only real happiness on this earth is spiritual and intellectual, that in the pursuit of the material there is literally nothing but ashes and bitterness, vacuity and sorrow."
The man who did earn much wealth said how he did it was to put all his eggs into  one basket and watch them very closely. In others words he suggested putting your full energy and thought into doing one thing and concentrating all your full efforts on working at it. Whether it be buying a stock, as he did, or working in your profession or job, make that the one thing most important to you. Obviously it runs smack dab up against the idea of diversification or going with the crowd.
So I was struck by the advise of Walt Disney Co. CEO Robert Iger. He spoke about the five qualities he saw necessary in a good leader.
"1. High quality standards." Obviously if you put your eggs in one basket the eggs have to be the best you can find and the basket strong enough to securely hold them.
2. Courage. Yes, it is risky to put everything at risk at a throw but you must be willing to do it if you want to escape the madding mob milling mindlessly in circles.
3. Curiosity. While watching the basket you might find new things that may be better than what you have so while watching your eggs closely also see what else is happening outside the basket.
4. Focus. That's another way of saying keep a close eye on the basket.
5. Decisiveness. You have to know when to hold 'em, know when to fold 'em. That's why you are putting all your effort into one thing so that you will know as much or more about it than any other person. When the time comes to change something  then act decisively and promptly
Iger had different explanations than I gave above. He was talking about leading others while I am concerned with you leading yourself though the qualities necessary in both cases are the same.
Enjoy the games. May your favorite teams win.