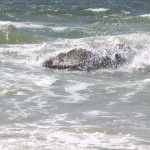 A brief post today on Sunday, a day of rest, summing things up.
I've reflected back on the posts I've started since last June and at the twists and turns this blog has taken.  When I started I discussed Whitey Bulger and John Connolly with a certain attitude toward both.
I wanted to learn more about Whitey and what made him tick. At first, because I remembered he was perceived as a bully by us young children, I toyed with the idea that he may have been some sort of bully or cowardly type individual since most of the crimes we read about always happened with the backing of others. He was an enigma in that he didn't play sports in a neighborhood where every kid played sports. He had a bad reputation as a young thug and criminal in a neighborhood where the crime rate was very low. (Old Harbor Village in those days had one of the lowest crime rates in the city.)
As I read more and heard more stories, not that any one story is totally true, it appeared that he was as tough, fearless and as anti-social as what he is reputed to be.  Those closest to him, tough guys and gangsters themselves, treated him with respect and wariness. I'm not sure whether any of the gangsters outside of Weeks and Flemmi actually liked the guy. But whether they did or not, even the toughest never indicated any of that to his face.  He was a mean, disciplined person not to be toyed with.
There's still much to know about him.  We're now trying to figure out how likely it is that he was involved in the murders attributed to him?  Were there others he killed that there are no witnesses to? What exactly was his relationship to Southie?
My attitude toward FBI Agent John Connolly has been modified since I first started writing. He'd done things I was never happy with him doing but I see these were things that were part of his job as he saw it. He believed the FBI authorized him to do anything he wanted to do as long as he was protecting Whitey and Stevie, even to the extent of allowing innocent individuals to be set upon by the Department of Justice. The FBI backed him up in everything that he did. The FBI set up, and maintains today, one of the most ill-conceived programs ever created by any law enforcement agency, the top echelon informant program, which is nothing more than pairing up with gangsters to go after other gangsters. As I see it, when you have a long-term relationship with a criminal to protect him or "keep him safe" you've become part of the problem.
Where I have changed with respect to Connolly is in the prosecution of him in Florida. I think that is a great injustice because the federal government did not exercise its right under the Supremacy Clause to intervene and stop that prosecution because what he did he was authorized to do; also, because he was acquitted of similar facts in a previous trial in Boston, and, the Florida appeals court refuses to write an opinion about his trial.
I had other matters I wanted to consider in the beginning. I want to write more about Billy Bulger. He's alleged to have been corrupt. I don't believe that. I will examine each of his alleged wrongdoings and explain what they are and how I see them.  I promised this a long time ago but to date other things have come in the way. It is still my intention to do this.
I also have to write about State Trooper John Naimovich who was one of Connolly's victims and those people who went after him. Naimovich was charged, tried and acquitted of these crimes, but his life was ruined, as usually happens to a person who loves his work and it is unfairly taken away from him.  He would die two years after his trial.
I still have to write more about the FBI and its involvement in going after organize crime. I've written something about it, but there is a lot more that has to be discussed.  Then we have the topics of what's going on today with the FBI and its use of top echelon informants, and the general actions of the federal government in protecting some people from being charged with murders while charging others.
Even though I've been writing for almost four months, there's still a lot more to write about, things that have arisen in matters surrounding the trial of Whitey Bulger. Then aside from that, I've felt a need to comment on the Annie Dookhan matter which is still covered in the fog of "it's under investigation, I can't comment." I'll continue to comment on that and on other matters as strike my interest..
As I mentioned previously, Whitey's case is scheduled for a hearing tomorrow so I'll have to saddle up and head off to Boston to see what is going on.