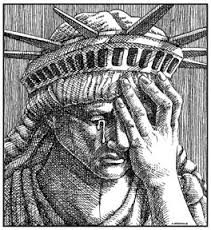 I had a dispute with another whether Trump is woefully ignorant or a devious malign force deigning to destroy the America that we know.
Exhibit One is the transcript of the interview Trump gave within a week of his assuming the office to an English and German newspaper. Make your own judgment
Speaks in unintelligible gibberish.
"This is serious Germany, right? Like this isn't any question — this is serious Germany."
"I just looked at Afghanistan and you look at the Taliban – and you take a look at every, every year its more, more, more, you know they have the different colours – and you say, you know – what's going on?"
"The White House is very special, there's so much work to be done, I'm not gonna be leaving much — I mean a lot of work to be done — I'm gonna be in there working, doing what I'm supposed to be doing — but who wants to leave the White House?"
Has all the attributes of dictator.
"But I do, I like order and I like strength."
Knows No Other People He Admires Other Than Father and Himself
Asked: "Do you have any models — are there heroes that you steer by — people you look up to from the past?" 
"Well, I don't like heroes, I don't like the concept of heroes, the concept of heroes is never great, . . . but I've learnt a lot from my father — I learnt a lot about negotiation from my father — although I also think negotiation is a natural trait, . . . natural ability, to me, is much more important to me than experience and experience is a great thing — I think it's a great thing — but I learnt a lot from my father in terms of leadership."
Hides His Ignorance Behind Wall of Secrecy
Asked What He Would Do About ISIS
"Well, I'd rather not say, I don't want to be like Obama or others where they say . . . "
Asked What He Would Do About Deal  With Iran
"Well, I don't want to say what I'm gonna do with the Iran deal. I just don't want to play the cards"
Asked About Moving Embassy  to Jerusalem
"Well, I don't want to comment on that, again, but we'll see what happens."
Unable to do anything for weekend because of partying.
"I mean my day one is gonna be Monday because I don't want to be signing and get it mixed up with lots of celebration, . . . "
Ignorant of vetting done at present for all persons seeking to enter in country. It takes at least 18 months to be cleared.
"The vetting into this country is essentially non-existent as it is, as it was at least, with your country." 
Cannot differentiate between legal immigration (Merkel inviting immigrants in) and illegal immigration (people entering or staying by breaking the law. Calls all immigrants illegals.
"I felt [Merkel] was a great, great leader. I think she made one very catastrophic mistake and that was taking all of these illegals, you know taking all of the people from wherever they come from."
Lives in a world where everything revolves around money.
"I think we should have built safe zones in Syria. . . .  get the Gulf states to pay for 'em . . . ."
"NATO had problems. . . . Number two — the countries aren't paying what they're supposed to pay. . . . And the other thing is the countries aren't paying their fair share so we're supposed to protect countries but a lot of these countries aren't paying what they're supposed to be paying, which I think is very unfair to the United States. "
"I think it's one of the worst deals ever made, I think it's one of the dumbest deals I've ever seen, one of the dumbest, in terms of a deal. Where you give — where you give a $150 billion back to a country, where you give $1.7 billion in cash — did you ever see a million dollars in hundred dollar bills? It's a lot. It's a whole — it's a lot. $1.7 billion in cash. Plane loads. Of, of — think of it — plane, many planes. Boom. $1.7 billion"
On Thinking We Can Win in Afghanistan by More Fighting:
"Afghanistan is, is not going well. Nothing's going well — I guess we've been in Afghanistan almost 17 years — but you look at all of the places, now in all fairness, we haven't let our people do what they're supposed to do . . . . , we're gonna have great military, but we haven't let our military win."
Concerned with Environment – Talked About The EU Dealing With His Irish Property
"Well I can tell you from the environmental standpoint, they were using environmental tricks to stop a project from being built — I found it to be a very unpleasant experience."