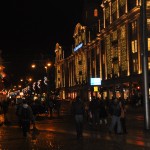 My telling of the story of Trooper John Naimovich must be like a serialization.  To understand it you have to know what I've written on past Wednesdays.  Serialization is as old as Sheherazade's stories in One Thousand and One Nights.  It gained immense popularity in the 19th Century when most good authors like Dickens produced their books in segments.  Google tells of its history.
As a youngster I would attend movies that were serials.  After the first episode, each following week a segment would be shown that would be a continuation of the prior week. Like a magnet it drew me back each Saturday morning as the suspense built. To understand the movie, I had to make sure I saw each segment.
To understand Naimovich you have to have read most segments about him.  I'll sum up a part of the story here.  Each Wednesday I'll add to the story.  To get a sense of what I write about you'll have to read most of all the Wednesday material including that previously posted.