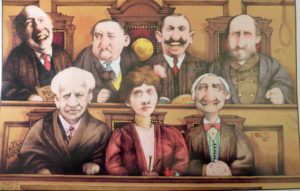 Who hasn't watched The Godfather movie? Did you feel badly when Vito Corleone died at the end? Was it right to have Michael Corleone wearing a Marine Corps uniform? Did you think Dianne Keaton was properly cast as Kay Adams or would another woman have been better? How about the character Moe Greene played by Alessandro Federico Petricone, Jr? Wasn't that well done?  Were you on Michael Corleone's team as he slowly involved himself in the family business?  Were you pleased that things worked out well for the family in the end? I was.
What is it that makes us cheer for the bad guys if they are really bad? There was the HBO series The Sopranos. I read it is widely regarded as one of the greatest television series of all time. I never watched it but I'd guess from what I heard it was a mini-Godfather with the usual Mafia type mob beating and murdering people. Why are so many people fascinated by what these criminals do?  I know it is entertainment and I enjoy it like anyone else.
I remember the night I wanted to watch a movie and Goodfellas was showing. I'd seen it once and looked forward to seeing it again. I was sorely disappointed when I went to watch it that I had to subscribe to a service to get it. I read recently Goodfellas is widely regarded as one of the greatest films in the gangster genre. In 2000, it was deemed "culturally, historically, and aesthetically significant."
Speaking of Moe Greene. The actor who played him is listed in the cast list as Alex Rocco . That was his Hollywood name. He grew up in Somerville as Alexander Petricone. He fled from the Boston area to pursue a career in Hollywood. He lived to age 79. Had he not done so it is likely he would have died at age 29. Alex was arrested along with James "Buddy" McLean for the murder of Bernie McLaughlin which took place on October 30, 1961, a little after noontime in City Square, Charlestown. There were witnesses to the murder who identified both men but as time passed their memories grew foggy and they Suffolk grand jury was unable to indict them. He also did time with Buddy in the House of Corrections for beating up a store manager; and his wife borrowed Howie Winter's car when Alex was doing time and while driving it she beeped the car's horn and it blew up. Fortunately, she staggered out of it unhurt. But Alex would have been up to his shoulders in the McLaughlin/McLean feud and would have been likely taken out by the McLaughlins.
I digressed. I was talking about the lure of the gangster lifestyle. I told how I enjoyed the movies about them but hoped when I escaped from the escape of the movies I recognized the Mafia for what it is, or was, a brutal criminal enterprise that ruled by murder and violence and is anathema to a decent society. Not only the Mafia but all those other gangster who easily take the lives of others.
I often wondered if others like those in the federal judiciary leave their adoration of the Mafia (not to be confused with  Leonardo da Vinci's masterpiece) behind when they do their jobs. Rumor had it that one district court judge liked to have Mafia types in his lobby and listen to their stories. Yuck.
There there was this. John Connolly was convicted in great part based of the testimony of Frank Salemme who buttressed other evidence such as Connolly tipping them off as to indictments coming down. Later, in prison, Salemme would tell another prisoner who was an FBI informant that he was coached in his testimony by the federal prosecutors who told him what to say and he lied at Connolly's trial. The FBI agents reduced this to writing; Connolly requested a new trial. Judge Tauro turned him down without a hearing; Connolly appealed the Court of Appeals. There the judges gave him short shrift. 
Judge Selya who seemed to have been the designated appellate judge to write opinions relating to Whitey Bulger and company wrote: "Salemme supposedly told the CS that he had been pressured by the prosecutors. However, the trial record contains nothing that would suggest that this was so. The government filed affidavits from no fewer than five members of the prosecution team flatly denying that any such misconduct had occurred. These affidavits have a patina of plausibility since virtually all of Salemme's initial debriefings were conducted in the presence of his attorney.3  These debriefings were consistent with the testimony that Salemme later gave at the appellant's trial, and one could just as easily believe in the tooth fairy as believe that a lawyer of Cardinale's stature was complicit in the most brazen sort of prosecutorial misconduct."
Footnote 3 read: "Salemme was represented by Anthony M. Cardinale, a veteran criminal lawyer.   In an earlier, unrelated opinion, we had occasion to quote from an article in Boston magazine chronicling Cardinale's storied career and noting that "[e]very troubled mobster in [Boston] kisses Cardinale's ring sooner or later."  United States v. Boylan, 898 F.2d 230, 258 n. 17 (1st Cir.1990) (quoting "All in the Family," Boston magazine, Aug. 1988, at 18)."
On wonders whether the Court of Appeals was also kissing Cardinale's ring. Why does the Court of Appeals to justify dismissing Salemme's claim bring in Tony Cardinale? Why does it suggest Cardinale would have to be "complicit in the most brazen sort of prosecutorial misconduct."
Does the mere presence of Cardinale in a case mean that he was told everything by his client Salemme with respect to the prosecution's activities toward him? Most likely he had no knowledge of the prosecutions prior dealing with Salemme. Wouldn't Salemme be smart enough not to tell Cardinale of anything that would hamper him in that pursuit of a deal. Wouldn't Salemme not want Cardinale to be accusing those he was hoping to get something from of misconduct?
Cardinale is in the position of any other lawyer no matter what his reputation is when it comes to defendants. He sometimes only gets to hear what his client wants to tell him. Cardinale's high standing with the court because the gangsters choose him as their lawyer has nothing to do with the case. Why the Court of Appeals used it to skirt over a real problem is difficult to fathom. I can only think it is because they take their gangster movies to the bench with them.