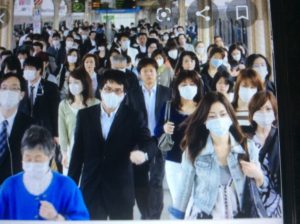 Like Jeremy Jim I joined the Marines at age 17. We'd both go through officer boot camp during the summer breaks while in college. This was at Quantico, Virginia. My first summer there I was out at Camp Upshur where I spent six weeks living in a Quonset hut. I was part of a group of guys from the Boston area who made up about a third of those assigned to that hut. Another third came from Mississippi. We all got along quite well but I had to admit my group and the Mississippi candidates had a hard time understanding each other's patois.
Entering the Quonset hut from the front for the first time my eyes were immediately drawn to a quite large white sign on the wall over the rear door. Large block black letters spelled out seven words:
"Prior Proper Preparation Prevents Piss Poor Performance."
I think of those words when I see our response to today's crises with the virus.
I would return for my second six weeks at Quantico during the summer between my junior and senior year. This time we were in a building on Main Side. All those with me had already completed the first six weeks. Even so, we started with around fifty guys and ended up with a little over twenty completing the course. The lieutenant in charge of our training was Joseph Waters. He was hard and mean. At that time the song "Waterloo" was popular. We used the tune to sing, "When will you meet your Waters Joe, everybody got a date, etc"
I was commissioned a second lieutenant upon graduation, sent back to Quantico for another six months, and after a short stint at Camp Lejeune found myself assigned to Marine Air Group 11 stationed at Naval Air Station Atsugi located not too far from Tokyo. I'd spend 13 months in Japan and the Far East.
That's a very long way to get to my point. I wasn't in Japan too long when I noticed Japanese people doing things that I never saw anyone in America doing. Some, at times a lot, of them wore white masks walking outside. Inquiring about it I learned that the masks were worn by people who had colds who did not want to infect others. The Japanese people lived in such close confinement it was in everyone's interest to  respect the others by limiting the spread of their germs
We've  seen photos of people in Asia during this time. The use of masks is ubiquitous. We've also learned that despite the massive outbreak in Wuhan  China has brought the number of new cases down to near zero. Japan, Singapore, and other Asian countries  also seems to be limiting cases. Doesn't it make sense that wearing a mask both prevents a person who has the virus from contaminating the air and helps prevents a person without the virus from catching it
An opinion article in the Boston Globe on March 19 advocates that this be done. Another article in The NY Times notes how the Asian countries have done remarkably better than Europe and the US wondering whether it is the result of living in "open, affluent democracies where people are used to free movement . . . ."
Doctor Michael Ryan of the World Health Organization credits the low Asian outbreak numbers with testing,  contact tracing and isolation pointing to the effectiveness of those measures during the Ebola outbreak. He noted a war was ongoing and they were still tracking 25,000 contacts. All these suggestions are good but are they overlooking the most simple explanation?
There's a Sherlock Holmes story where the answer to the mystery was open and obvious but no one saw it. Isn't the answer, or at least one of the major answers, to slowing the spread of the virus that we copy the Asians and wear masks whenever we go outside.
Were I in a position of power to do so, I'd prohibit any person going outside without a mask. You say we have a shortage of them. That's not true. We can make our own. Let's start doing it.