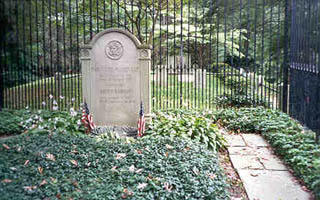 On my way back from Florida I stopped in Garden City, New York. It was getting late in the day. We checked into a local motel. My wife was exhausted since it had been a long day of traveling with a ton of traffic. She had no interest in going back out for another twenty mile round trip that I proposed.
I wanted to see the tomb of Teddy Roosevelt which is located in Oyster Bay in the Youngs Memorial Cemetary which was about ten miles away. So off I went and soon found myself walking up the twenty-six steps to the top of a hill, the twenty-six representing that he was the twenty-sixth president of the United States. Standing at the gate to a ten foot high wrought iron fence that enclosed his burial area I could see that his headstone was relatively simple bearing only his and his wife's name.
I walked up a pathway that brought me closer to it. I stood there paying my respects to him and calling to mind the short story by Leon Tolstoy about How Much Land Does A Man Require. Darkness was closing in and a little chill seemed to come with it. My head was bent down in thought when I sensed someone near me. "Another visitor?" I thought but like the slight chill that came with the darkness I felt a much deeper one inside me. I don't know why — the unexpected arrival in the graveyard in the enclosing night perhaps.
I blessed myself. I don't know why. I was not praying. Was it to gin up my courage to look up to see who was there? Was it to pretend I had been praying? Whatever reason I did and was about to turn when I felt a hand on my shoulder. The touch was as light as a feather but it almost caused my knees to buckle. "What do you think?" the voice said.
I looked. Standing there was a young woman very tall and slim draped in folds of a white diaphanous material flowing from her shoulders to the ground. I smiled confusedly and nodded. Keeping her hand there she repeated the question. I answered, "what did I think about President Roosevelt?"
Her soft voice replied, "no, about whether he was confused about what TR said.?" I said nothing for a moment because of my confusion. She seeing that said: "he said speak softly and carry a big stick." I nodded. She went on, "he speaks loudly and carries a twig."  She took her hand from my shoulder, in her other hand she had a rose which she put on top of the headstone, she then walked, it seemed like she floated, back out the gate without waiting for an answer.
It was a very strange experience. I left immediately after her. I wanted to catch up with her to speak some more. I wanted to learn something about her. She had disappeared into the night even though it seemed there was no place for her to have gone. As you may imagine I had a lot to think about in my trip back to the motel even wondering whether that young lady appeared at all or was I in such deep thought that I may have imagined it. I one point I pulled over to go back to see if the rose was on top of the headstone but because it was so late and so dark I too was so tired I decided not to. I wish I had.
I had no doubt of one thing. Whether real or imagined I knew who she was referring to. I also knew that the leaders of other countries would also know what she said. What it augurs for our future I have no idea but in my experience growing up I knew once a loud mouth was shown to have no courage he was quickly shut up and lost big.