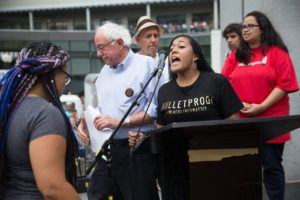 Alexandria Ocasio-Cortez won the primary in the 14th New York Congressional district. She ran for that position as a member of the Democratic Socialists of America (DSA). She adheres to the Socialists idea  of "the abolition of capitalism in favor of an economy run either by "the workers" or the state"
She worked for Bernie Sanders another Socialist who tweeted: "Congratulations to @Ocasio2018 on her extraordinary upset victory tonight! She took on the entire local Democratic establishment in her district and won a very strong victory. She demonstrated once again what progressive grassroots politics can do." 10:39 PM – Jun 26, 2018
The Democratic Socialists of America are not a political party which it should be. But its members know that if it took off its sheep's clothing and ran as it should as a Socialist Party it would be rejected outright by the American people. Bernie Sanders knows this better than anyone but he's convinced himself he is a leader of a new revolution in America. What he is most likely going to be is a guarantor of Trump's re-election as he tears the Democratic apart with his Socialistic nonsense.
We've seen its act before in America at the time of Eugene Debs. It only seems to get popular in the times when America is in difficulty and clear-headed people's thinking gets cloudy. Its popularity is based on the idea that everyone can get free stuff without working too hard to get it. It keeps it quiet that some of those like Bernie who will get the free stuff will get a lot more than others.
The New Your Post's headline was: "Democrats 'still trying to process' Crowley's shocking loss."  It hardly was shocking to anyone who has recently attended a Saint Patrick's Day parade in New York City. The city's Catholic schools march in the parade. The students in front presently attending those schools are mostly children of color. Behind the children the alumni marches. They are all white.
The 14th New York district always elects Democrats. It has a population of 712,000 of which 51.8% are Hispanic. Its unemployment rate is 9.1%. The medium household income is $46,900.It has the third highest Hispanic population in a Congressional district in New York.
There are 435 Congressional districts in the U.S. There are 35 other districts with a higher Hispanic presence in the U.S. Most are in the largest states. There are 14 are in California, 10 in Texas, 4 in Florida, 2 in Arizona and New York, and one each in Illinois, New Jersey, and New Mexico.
The two districts in New York that border on the 14th have a greater Hispanic population. They are represented in Congress by Hispanics. The 13th by Adriano Espaillat who was born in the Dominican Republic and the 15th by Jose El Serrano who was born in Puerto Rico.
How then is it a surprise that an Irish incumbent in a predominately Hispanic district is defeated by a Hispanic any more than Irishman John Fitzgerald was elected mayor of Boston in 1905 in a predominantly Irish city?
Speaking of Fitzgerald, he was said to have promised James Michael Curley he would not run for office in 1913 but then changed his mind. Curley quickly announced and said "he would present a series of "educational" lectures with titles such as "Graft in Ancient and Modern Times" and "Great Lovers from Cleopatra to Tootles" (referring, as every Bostonian knew, to the blond cigarette girl Tootles Ryan, who was rumored to be Fitzgerald's mistress), "Honey Fitz" ended his campaign."
The Irish incumbent who lost to Alexandria Ocasio-Cortez, a 28-year-old Latina activist, is 56-year-old Joe Crowley. Crowley is the fourth-ranked Democrat in the House. He was the baby of the group. Above him are 78-year- old Nancy Pelosi, 79-year-old  Steny Hoyer , and  77-years-old James Clyburn whose combined ages are older than the Constitution.
Crowley was lucky. He had no opponent in the primary for several prior contests. Any Hispanic opponent could have defeated him whether Socialist, Democratic Socialist, Run-of- the-Mill, or Blue Dog. It was time for the Hispanics to claim what was rightly belonged to them.
One person who seemed not surprised by the result was Nancy Pelosi. She was asked by a reporter:"The Democratic Party is increasingly younger, more female, more diverse, more progressive. Should the Democratic House leadership look that way?" She replied: "Well I'm female, I'm progressive, I'm — and the rest. So what's your problem? Two out of three ain't bad."
That Pelosi has no problem with Ocasio-Cortez's victory is a sad sign for the Democratic Party. If anything will guarantee its future losses it is identifying itself with Socialists. That is one thing American will never buy.