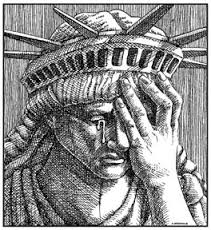 Close to the worst words that can be heard in an open society is that a secretive organization responsible only to itself is investigating something. The absolute worst words are that it is investigating its own actions. How difficult it must be to do that in an upright manner? How strange in a democracy with its checks and balances one group remains unaffected by or responsible to any others? How dangerous is it that it is a police force?
I wrote the other day how the FBI alerted law enforcement agencies around the country that terrorist attacks were planned for the Fourth; nothing happened. The FBI Director took credit for that. He said it broke up those planned attacks with over ten arrests. He refused to tell us anything more. The one person he mentioned had nothing planned for the Fourth.
No one holds him accountable. He does not have to back up his statements. We have no one, even a group of top Americans with the highest security clearance, that can learn any more than what the FBI wants to dole out.
I thought of this (hat tip to Rather) reading an article that said the father of the Tennessee gunman Mohammad Youssef Abdulazeez was investigated by the FBI several years ago and put on the terrorism watch list but was later removed.
That brings us back to Tamerlan Tsarnaev to whom the same thing happened. I'm sure there are others but I am away from my resources to note them. If we do not have a mechanism for discovering whether the FBI's action was appropriate given the circumstances, which we do not when the FBI investigates itself, how do we expect to prevent such horrors as happened in Chattanooga?
With respect to Abdulazeez's action in murdering four Marines we will have to rely on  the FBI to tell us what it knew about him  Do you expect knowing its historic fear of embarrassment that it will tell us it did anything  improper?  What will it tell us of how the son of a man on the terrorist watch list got the guns? If it hides its errors and mistakes then it won't change
We need to know if the deaths of four Marines could have been prevented  We need to be able to open up the FBI files to independent investigation  Failing to do so puts the lives of more and more Americans in jeopardy as the evil of IS continues to infect American Muslims
Having an Independent body overseeing the FBI in matters such as this makes eminent sense. That it has not been done only shows the power and fear our elected leaders have of it