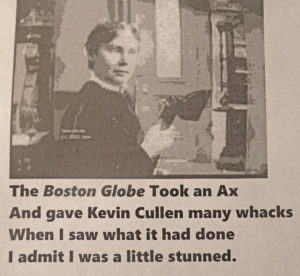 On April 20, 2018, Kevin Cullen, who has the distinction of being born on the same day as I was although he is a little slower having followed many years later, was placed on administrative leave. As you know Cullen has been with the Globe forever. I recall he was there in 1988 which means at least 30 years. He's no slouch. He graduated summa cum laude from UMass at Amherst even though he grew up in Malden (yes, he's not f rom Southie) and graduated from Malden High School.
I was going to say another person in the media Michael Bloomberg also grew up in Malden but before doing so I checked. He grew up in Medford. Being from the south side of the Charles River I often get those two places mixed up. My friend Warren Sundstrom who recently passed away was one of Medford High's greatest athletes. He used to grimace every time I'd tell people in his presence that he was from Malden. At least I didn't say Melrose.
Back when Kevin was placed on leave I called the Globe's actions "not fair nor right." I felt it should have stood up for him. You have to keep in mind the Globe nominated him for a Pultizer Prize for his column writings and he was part of the Globe team that won the Pultizer Prize reporting on the Catholic Church scandal that sent Cardinal Law out of town. He is also the co-author of a book on Whitey Bulger.
When it put him on leave with pay the Globe said it would be conducting a "thorough examination . . . of his work." I expressed the hoped that the Globe would weigh that up against his long and productive career with it. It did.
The Globe conducted its own review of Kevin's writings. It noted in a memo to Brian McGrory on May 31, 2018: "We reviewed 100 columns written by Kevin Cullen, contacting primary sources, checking facts, and, when available, reading other media coverage of the same events. We did find five small errors of fact — a name misspelled here, a detail wrong there — but far more commonly people praised Kevin's accuracy and, in many cases, his willingness to call back to confirm details."
In the penultimate paragraph it states: "At his best, Cullen's writing is among the most appealing that appears in the Globe — precise, well observed and often standing up for the forgotten man and woman with profound effect. Reading dozens of Cullen's columns in succession gives us a heightened appreciation for Cullen's humane sensibility and commitment to use his journalism for good."   
After its review of his work I'd have expected he'd get a promotion, a salary increase and a little praise for a guy who worked there as long as he has. Unfortunately the Globe's prissiness far exceeds its idea of loyalty or appreciation. Inexplicably it decided to punish Kevin.
So why the whacks: one quarter of his yearly salary taken away and pocketed by John Henry, three more months suspended (total five months), two months probation as a reporter, a gag order of six months after his return, and "heightened editorial scrutiny."
It didn't stop there. Trump-like the Globe  forced Kevin to admit shortcomings (whatever those were) and, most importantly to crawl with the statement, "I'm sorry that it has allowed some to attack the Globe itself." How close the Globe is to the FBI. It's the FBI's first commandment "Don't Embarrass the Family," in other words do whatever you damn well please but don't get caught.
There must be more to the story and there is. The Globe found nothing to merit its punishment but outside experts did. Do these justify the whacks?  I'll look at those tomorrow.