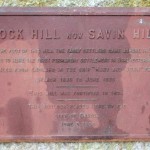 I suppose you would miss a lot of this if you weren't from South Boston or Savin Hill or perhaps if you hadn't been around for as long as I have. I guess I can pick up the scent because I spent my first ten years in South Boston and then next ten in Savin Hill until I left to see the world with gold bars on my shoulder as a Marine officer. After putting in my years, I returned to the Boston area.
I was in the area when a well qualified young man who was attorney general ran for the governorship. His name was Bob Quinn.  He was the state representative for Ward 13 which included Savin Hill. He lived on Aukland Street which is off of Belfort Street on which my house was located. He rose to become Speaker of the Massachusetts House of Representatives and then the Commonwealth's Attorney General. Bob never lost the common touch; smart, loyal, smiling and always fun to be around.  It was in 1974 when he ran for governor against Mike Dukakis that the Globe unloaded on him.
The Globe couldn't abide the idea that an Irish guy from the three-decker neighborhood was daring to run for governor. It had a stereotypical view of the inner city Irish as being common railers, brawlers, drunks, and crooks. Even though Quinn was Harvard educated the Globe planned to undermine him. Then the suburbanites eagerly followed its every prescription and  believed it was on the level. The Globe's preferred candidate was Michael Dukakis who would win big in Globe Nation.
A Globe editorial on April 4, 1974, was headlined: "Mr. Quinn's Lassitude" and included such lines as he promised more effective law enforcement but "his record during his five years as attorney general affords little basis for high hopes" and his tenure has "been marked by prosecutorial timidity on numerous charges of political and municipal corruption" and he "shied away from an investigation" and "in his laxity Quinn has shown no special partiality to the Spotlight Team."
It seemed that must have been the cardinal sin. Apparently the Spotlight Team was demanding Quinn do some things, and unlike the US Attorney's office that as the Globe's lap dog snaps to attention at every request, Quinn must have proceeded at a pace that did not please the Globe. The article ended: "It is no secret that Quinn long has wanted to be governor. Some have attributed his reluctance as prosecutor to a determination to avoid antagonizing anyone who might tarnish his political star. If true, then Quinn has abused the public trust for his narrow political advantage. The real losers are the people that the laws, when unenforced, fail to protect."
The last quote is a prototypical demagogic trick used by the Globe. It is fond of doing that type deceptive writing. It suggests something an unknown number of anonymous people ("some") have allegedly stated. Here it was that Quinn didn't prosecute people to advance his career. What can be more outrageous than to put up statements by unnamed people suggesting a sitting attorney general was playing politics with his office?
Then it acted as if that statement had some merit to it. It says "if true." Why would a newspaper be speculating on something that it has no idea is the truth or not?  Would the Globe print that "some people suggest Senator Elizabeth Warren is a kleptomaniac" and then go on and say "if true."
This is rancid journalism cleverly disguised. It then follows the assertion "if true by stating boldly: "Quinn abused the public trust." Then it wraps it all up by assuming it is true by stating the people are the real losers because the laws weren't enforced. Most readers would come away after quickly reading it with very negatives feelings for Quinn because they would no reallize what was said could very well be based a falsehood or something made up out of whole cloth.
It's an outrageous way of writing.