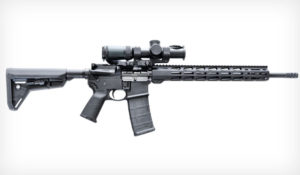 The sad case for a human went into a grocery store in Boulder, Colorado with a Ruger AR-556 ..223 REM / 5.56 NATO 16.1″ Barrel 30 RDS and murdered ten (10) people. It's advertised on the site GrabAGun for $949.99 "or as low as $56.02 per month with Shoot Now Pay Later."
The site went on to say: "The Ruger AR-556 is a great deal for an AR without breaking the bank. The 16-inch barrel provides great accuracy and balance while the 30 round mag allows for plenty of follow-up shots. With improved balance and handling, Ruger AR 556 .223 Rem / 5.56 NATO is versatile enough to give you all that you're looking for in a sporting rifle. Get one today from Grabagun at a great price." 
You did notice that it is called a sporting rifle. I suppose the sport is using it at a firing range. I cannot think of any other sport where it is useful. But why do you need to have a cartridge with 30 bullets at a range. You can have as much enjoyment with a single shot gun or if you are desperate a gun with 8 rounds.

The M-1 Garand rifle which I carried when in the Marine Corps weighed 9.5  pounds while the AR-556 weighs without its magazine 6.8 pounds. Believe me the difference in weight would have been deeply appreciated when one was carrying it over hill and dale from early morning until early  evening.
The M-1 did not have a magazine with 30 rounds but a clip with 8 rounds. Now if Marines going into combat in WWII, Korea and for a limited time in Vietnam needed only clips with 8 rounds why is there a need for a 30 round magazine for civilians in America?
One expert on guns wrote: "Perfect for hunting, self-defense, and recreational shooting, the AR-556 does it all. It's reliable, accurate and won't break the bank. So jump on the AR-15 wagon and pick up an AR-556! You won't be disappointed." Seriously who needs 30 rounds to go hunting. If you do I'd suggest you should probably give it up.
I was interested to see what was a better weapon the Garand or the AR.  Here's a good article explaining it. It concluded: "So while the .30–06 is certainly more powerful than 5.56mm its not necessarily going to make a difference in a close range where as the lighter weight and shorter length of a 5.56mm rifle is an advantage." It goes on to note almost all armies now prefer the 5.56 rifle like the one the Boulder murderer used.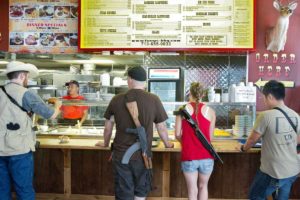 Now please explain this. Why do we let Americans buy weapons that are used by armies in combat and in some states openly carry them about?
Fortunately in Massachusetts they are banned. You cannot get a gun license without approval of the chief of police. Maybe that is why we have the lowest rate of death by guns. Why are other states not willing to do this?
The sporting issue can be handled by letting approved firing ranges have those weapons which can be accessed by those wanting to fire military weapons. No one should hunt other living things with a 30 round automatic. The most basic step for those states what want to allow citizens to own these military weapons is to require the local police chief or sheriff to give them authorization to own them. That would take care of background checks since these folk will have a good idea who should own them or not.
The idea there can be no check on the guns is belied by the need to get a license to own one or to hunt with one. No one is seeking to take guns away from folk who can handle them safely and responsibly. What we are trying to do is to only let those folk have them; and, that they keep them in their homes. The idea I have to go into a shop to buy a submarine sandwich and have a guy or gal with an AR-556 come in is not something I or anyone else should have to encounter in our society.
What is amazing is that a couple of sensible steps could have prevented the Boulder murders. What is more amazing is that not one – not one – Republican senator will take that tiny step. It is not only dealing with guns that is messed up in America it is having people in Congress without a bit or courage or common sense.