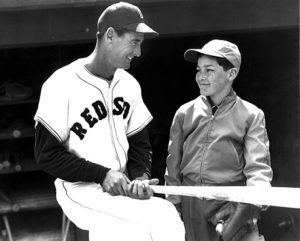 Well as we've seen in the past the Boston Globe is pursuing another vendetta. This time against  the former owner of the Boston Red Sox Tom Yawkey and his wife Jean (Hollander) Yawkey who owned the Red Sox for about sixty year. A street next to the park where the Red Sox play their home games is called Yawkey Way. The Globe without a scintilla of proof suggests that Tom (and I suppose his wife since the street is named after both) is a racist.
The only evidence to suggest Yawkey is a racist is that the Redd Sox were the last team in Major League Baseball (MLB) to employ a black as one of their players. There is nothing in Yawkey's background to suggest he was one. He made no racists statements nor did he segregate Fenway Park into black and white areas.
Tom Yawkey was born in Detroit, He went to Yale where he took engineering and science courses and graduated in 1925 age 22. With a nice inheritance from his forebears at age 30 in 1933 he bought the Red Sox and owned them until his death in 1976. Thereafter they were owned by his wife Jean (Hollander) Yawkey until 1992. Here's an article that suggests he is a racist by twisting one statement he made although reading the full article it appears that the main conclusion is based on the idea that he did not hire Jackie Robinson.
As you know Robinson was the first black to play in MLB. He was hired by the Dodgers in 1947. That year the Indians (Larry Doby) and the Browns (Hank Thompson and Willard Brown) also hired blacks. It was not until 1949 that the next team NY Giants hired a black player (Monte Irvin.) At the end of the 40s only four teams had hired a total of 11 black baseball players.
By the end of 1953 four other teams had brought on black players: Boston Braves (Sam Jethroe), Chicago White Sox (Minnie Minoso), Philadelphia  Athletics (Bob Trice) and Chicago Cubs (Ernie Banks).  In 1954 the Pirates, the Reds, the Cardinals and the Washington Senators joined  in; in 1954 the Yankees brought on Elston Howard; the Phillies hired a black player in 1957, Detroit in 1958, and the Red Sox in 1959.
Was Bob Carpenter owner of the Philadelphia Phillies a racist? He was the last owner in the National League to bring on a black player. Were Dan Topping and Dell Webb who owned the Yankees from 1945 to 1964 racists? What about Detroit owners Walter Briggs?  (In Wikipedia it states he"would not allow black fans to sit in the boxes at Briggs Stadium." It is a worthless smear since it cites no source.)
The point is that some owners had to be the last to use black players. Is there some magic date that makes one a racist for not having done it sooner?
The Brouhaha over the street name was started by the present owner of the Boston Red Sox John William Henry II. I've been around for a long while so when I write the name Henry I'm brought back to an earlier day when the rhythm and blues songs "Dance With Me Henry" and "Henry Got Flatfeet" were popular.  My image of that Henry is that of Red Sox owner Henry.
Henry was born in Quincy. Not the Quincy that borders Boston on the south but the one in Illinois. He grew up in Illinois, Arkansas, and California. He was, according to Wikipedia, a fan of the St. Louis Cardinals and their star Stan Musial.  He owned a couple of minor league baseball teams, had a small interest in the Yankees in 1991, purchased the Florida Marlins in 1999, and in late 2001 bought the Red Sox.
I lay out his background to show he has had little connection to Boston sports. He has no sense of how the old-time fans view Tom Yawkey. We think of the Jimmy Fund. Once started under the Braves it continues since 1953 with Sox. Photo on page is Ted Williams with a Jimmy Fund patient.
Henry has no concern for Boston's history. He is a business man like Trump. He owns the Boston Globe.  He uses that to advance his endeavor. His evidence is shaky but his high handedness is obvious. Why if he is so sensitive to Yawkey Way is he not sensitive to having his baseball team go to a county that is named after a man who fought to keep blacks in slavery. Every winter the Red Sox have their winter home games at their stadium in Fort Meyers, Florida. That city is in a county named after a Confederate general Robert E. Lee.
Obviously Lee County will not be mau-maued into changing its name by Henry. But if he were really on the level and not intent on feigning his concern for symbols he would not have his winter sessions in that county. On that he is silent.
But I suggest there is more to Henry's faux game than meets the eye.