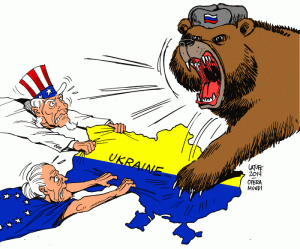 There's hardly a man alive who knows that the big chief of the Prevavicators is Donald Trump. A man well experienced in living in an alternative reality. Some suggest he is delusional but that would be underestimating him. He is just a well versed liar. Latest examples that the terrorist attacks are not being reported and the murder rate in the United States is at its highest levels.
He's piling lie upon lie as quickly as the members of that old tribe built the Tower of Babel. You know what happened to that. The most recent was a tweet on February 8 calling the use of the courts to review his banning of Muslims "Politics." Somehow he thinks he is a tsar. Sometimes I think he is a reincarnation of Tsar Nicholas II and you know what happened to him.
I did not know another chief of the I received an email that read: "I am convinced Trump is trying to get Kraft's ring back." That was it but attached to it was an interview Kraft gave with Fox (as you would expect) the alternative news cable network. As you know Kraft supports Trump. If he didn't he would not have been interviewed by Fox.
Unless they messed up the quotations then Kraft seems to talk as much gibberish as the Ruler Trump. He talked how Trump's policies will be: "Catalyst litigation to creating new jobs, . . . " Now I'm sort of at a loss. What is Catalyst litigation? Did he make that up? How will that create new jobs?
He makes the profound observation: "we have to do something about education." I guess he means destroy the little we have by accepting Trump's billionaire appointee to the education job.
Then we have his quote at the end of the article following the statement that "Putin stole his 2005 championship ring." "If we [win the Super Bowl] . . . maybe we make a ring for him [Vladimir Putin] with five and maybe we can do a trade…It has emotional value, we thought about making one with his name on it… I hope like Mexico, Russia and the U.S. can have better relations they have a lot of nuclear missiles pointed to the east coast, I think we got to chill…He can have any ring he wants, as long as he treats America well, . . . " I was surprised that Mexico was a nuclear power. As for chilling I'd suggest that is not done by bribing Putin.
Kraft wants to trade for his 2005 Super Bowl ring . (Why doesn't he make another one?) Kraft is dissembling because It wasn't stolen. A June 30, 2005, article in the Boston Globe reads: "Ending something of a diplomatic mystery, New England Patriots owner Robert Kraft said yesterday that he was so taken by President Vladimir Putin's affection for his diamond-encrusted 2005 Super Bowl ring that he decided to give it to the Russian leader as a token of "respect and admiration. . . . Upon seeing the ring, President Putin, a great and knowledgeable sports fan, was clearly taken with its uniqueness," Kraft said in a statement. "At that point, I decided to give him the ring. . . .  I have ancestors from Russia, so it added significance for me to know that something so cherished would reside at the Kremlin along with other special gifts given to Russian presidents," Kraft said. "It was truly an act of serendipity and one that I am honored to have experienced. It touched me to see President Putin's reaction to the ring, and I felt, emotionally, that it was the right way to conclude an exceptional meeting." (my emphasis)
A Patriot spokesperson said in 2003 about the ring being stolen that: "It's a humorous, anecdotal story that Robert retells for laughs. He loves that his ring is at the Kremlin, and, as he stated back in 2005, he continues to have great respect for Russia and the leadership of President Putin. In particular, he credits President Putin for modernizing the Russian economy. "  (my emphasis)
Now I can figure out why Kraft is so enamored of Trump and Putin. They are from the same tribe. They are all chief of the Prevavicators. You show that you can teach your children how to rise to the top by being a liar.
No doubt Trump aims to help Kraft get the ring back. Putin will demand Ukraine. Maybe Estonia, Latvia, and Lithuania. What's a few countries among tribesmen when it comes to easing Kraft's emotional angst over his $25,000 ring.