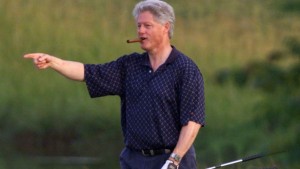 Hardly a man (or woman) is now alive in America who doesn't remember the Clintons ride to riches on the back of their Clinton Foundation (CF) set up to do some "good deeds". It was a cute way to get donations from people and to place a tissue wall between them and the donors. So for instance when the Sheik of Arabia wanted the State Department to continue its multi-million dollar program in his country he would suddenly find a desire to be charitable and do so with a donation of a half a million to the CF. (No one seemed to ask the question "why didn't he give that money to the program being funded by the US?"). Of course it did not hurt the big corporations with big money contracts with the government to belly up in line to slip the CF a few million or so.
You know it wasn't as if there were no charitable foundations in the world doing the things the CF planned to do. There are so many they are bumping into each other like the dodgem cars at places like Paragon Park. (I'm not sure Norumbega  also had dodgems but I clearly remember it having the delight of all imaginative boys: the caterpillar.)
Almost all charitable foundations are set up by rich people with their own money. You understand how it works: they reach into their own pocket and not someone else's to fund their charitable work. Where I spend time in the winter a lot of these smaller foundations are established by families (the majority it seems by Jews who fortunately are quite generous to the arts) who have done well financially and want to give something back to the community.
The idea is people use their own personal wealth. They differ from standard charities like the Salvation Army, Catholic Charities, and others that solicit money from the public at large.  
Then along comes Slick Willy (SW) as some called him in Arkansas and Willie's spouse (WS). They figure why not set up a charitable foundation and fund it with money from others. WS wondered why people would give to them when others were doing what they proposed.  SW reminded her they would be able to reward donors with taxpayers money if things worked out. It was a wonderful scheme. Donors could throw a nickel in the drum and get back a sawbuck. Unlike standard charities their foundation would be in a position to direct public funds to others in exchange for others contributing to them.  
It was a typical idea that comes from those with a liberal bent. They want to appear charitable. But they want to use other people's money to put forth that appearance. It is the Edward Kennedy model: tight with his own money, free with that of others. With him the others were the taxpayers. That was to be the lure of CF that would make it very attractive. 
You can't get too upset at the Clintons since both came from poor folk backgrounds. They found themselves thrust into the rich circles. Envy popped its ugly head into their thinking as they looked around and saw they were much smarter than the dolts with all the money. The CF was to be their golden highway to filthy wealth far surpassing their wildest imaginings.
Sadly, though, they found just as they were getting up to speed a flood trumped their dreams and  washed away the road in front of them. In part the flood was caused by some who saw the CF for what it was and were revolted by the greed. But you know roads can always be rebuilt. You can bet the "comeback kid" et ux are busily repairing that road by pretending the dream is not dead.
Pretty shoddy of the Clintons you must think to get rich that way. But one thing we can say about them in their favor is that it was obvious they did not have the personal wealth to use their own money to set up the CF. How much worse would it have been if they were already as rich as Midas yet set up the CF? Would there have been anything lower for a person with access to billions and who also had access to controlling government funds to set up a foundation it controlled to solicit donations allegedly for charity. You know very well the nickels would flow into the pocket of the fund owners already extremely wealthy and the sawbucks fly out of the taxpayers wallets.
The Clintons have stepped off the stage momentarily. We can breathe a sigh of relief. You would like to think so.
What? Don't tell me!
The Trumps are going to follow the Clinton idea. With all their money they are going to set up charitable funds. They are going to  keep their own money while soliciting others while controlling who gets taxpayers money! Isn't that the lowest of the low?