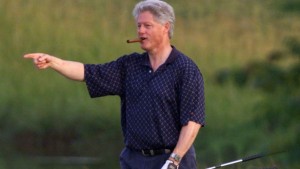 When Bill Clinton boldly bolted aboard the airplane carrying Unites States Attorney Loretta Lynch he did so without interference from those FBI agents who were on the tarmac waiting for her to disembark from her airplane which had just landed. They stood aside fearful of confronting him.
There was no prearranged meeting. He walked passed them with his own protectors the members of the Secret Service. The only response from the FBI agents was to protect Bill and their boss Lynch by telling all present no photographs and no cell phones. The meeting was to remain secret. All these government employees had been co-opted by Bill into his diabolical scheme to compromise the U.S. attorney.
Bill clearly knew that it was inappropriate to meet with Lynch at this point. It was within a week of his wife Hillary being questioned by people who worked for Lynch. He was doing this with the consent of Hillary and without fear of any of the government employees telling of the meeting.
Once he was on the plane he was able to meet with Loretta Lynch in a one-one situation, perhaps her husband was present, or maybe he, like all the agents stepped out to give them their privacy. What was it that went through Lynch's mind seeing him enter the airplane? She had to be intimidated by him. After all, he was the one who gave her the job in the U.S. attorney's office and he was the husband of the person most likely to be elected president in November. She could not be rude even though she should have been.
He immediately, when the coast was cleared which happened while the pleasantries were being exchanged, broached the matter that brought him on board. It was the upcoming session that Hillary was to have with members of Lynch's attorneys in the Department of Justice (DOJ) and the FBI agents that worked for them. The questions to be asked at this meeting about Hillary Clinton's use of her private server concerning her emails would be conducted by the DOJ attorneys who work for Lynch.
Obviously they discussed how that meeting was to take place. This discussion did not even have to be an attempt by Bill Clinton to interfere with the proper manner in which that was to be done by seeking from Lynch an agreement over certain things that would happen. Whether he got the agreement he wanted we do not know for sure but it is likely that he did. We know that because five days after Bill met with Lynch Hillary underwent the questioning.
Lynch might be a totally on the level person. But look at the position Bill put her in when he attempted to interfere with the investigation. He had committed a federal crime in doing that. But he knew that there was no way Lynch could ever charge him with this. For her to bring charges against a former well-backed president with powerful friends would end her chances of further government benefits forever.
Bill meeting with her even in the highly unlikely sense that it did not openly involve a discussion of the upcoming questioning of Hillary was clearly meant to send her a message that she was finished if anything adverse came of it for Hillary. He gave her the message: "if Hillary is hurt then you hurt yourself. You are finished."
There was another side to the message. "You take care of her and she will take care of you." That is why he needed to deliver it personally to make that guarantee.
What's in it for Lynch if Hillary is exonerated is exactly what she would lose if Hillary is indicted. Bill wanted to make it absolutely clear she knew this. She could continue as US attorney, she could get a seat on the Supreme Court, or even a coveted seat on a federal court of Appeals, if she cooperates; she loses the chance if she doesn't.
Bill did commit a crime. His bold meeting with Lynch within a week of his wife's questioning could be for nothing else other than an attempt to influence the federal investigation of his wife. No matter what was discussed his one-on-one with the United States Attorney was intended to bias the questioning in Hillary's favor.
18 U.S.C. sec. 152 provides: (c)Whoever corruptly— (2)  otherwise obstructs, influences, or impedes any official proceeding, or attempts to do so, shall be fined under this title or imprisoned not more than 20 years, or both.
Look for Hillary to get a pass, (this was written before we knew she did), Loretta Lynch to get a good job, and Bill to continue his Slick Willie sleazy ways since he is too big to touch.