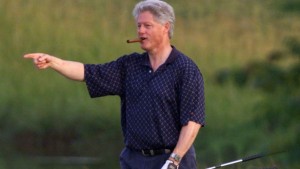 Some messages are so sensitive and extremely important they can only be passed on by the person who wants to convey it to another in a face-to-face meeting in a place where no other person can possibly overhear what is being said. Top gangsters  and government operatives know this. Whitey Bulger would only talk business walking in a public area usually out at Castle Island in South Boston. Russian agents only met compromised FBI agents in public parks.
On occasion the person with the message cannot carry it. For instance a person under investigation cannot afford to be seen meeting with a top investigator. Another will have to convey it but that is usually out of the question because the message will usually involve a back and forth conversation with discussions of guarantees. Also, there are circumstances when the person carrying the message may be forced to disclose it.
There is one circumstance where it can be carried without that worry. A spouse can always give it to the other knowing there is no way one spouse can be forced to disclose what is said in private between them. In addition, the spouse must be intimately aware of the situation so that a discussion can take place concerning the message and guarantees can be given.
Even then the message must be of such grave moment and under such circumstances as to ensure none but the person for whom the message is intended will hear it. All chances of it being recorded or coming to the notice of other ears by some surreptitious means must be eliminated. It is best In public but under some situation It is best that it pass unnoticed by others which cannot be guaranteed by a public meeting..
The meeting cannot be in the person's public office. The words cannot be said over a telephone.  All those places can be bugged.
What better way is there to pass on the message than in a private area of airport open to few aboard a private airplane. That is how the Clintons arranged to get the message to the United States Attorney Loretta Lynch.
No one was supposed to know it had occurred. The story later spinned out after its discovery is that Clinton just happened to be at the Phoenix airport in the place reserved for private planes. He happened to learn the US attorney was arriving so he decided to wait for her plane to land. He then went on board to talk to her for a half an hour. According to Lynch about their grandchildren and golf. "It was a social meeting," she said.
She had to pass it off as a social meeting on the tarmac in a private area of the airport as if they just bumped into each other. Had it been, it would have lasted for at most five minutes. But this was more than that. The Clintons had a message that had to be delivered and discussed.
Time was running short. Bill waited for the right opportunity to meet. No one was supposed to know this was to happen.
No one would have known had not a Phoenix news reporter got tipped off about it. The FBI instructed those who were at the airport "no pictures, no photos, no cell phones" That's the effect of the Clinton Sleaze Factor – that oozes out so that all around them also get compromised and tainted by their squalor.
"Bill and Hillary meanwhile have been silent about the meeting and its propriety," one columnist noted. Of course, they were caught up short. They have to figure out who knows what before they talk. Another aspect of the Clinton Sleaze Factor double checking to make sure their lies will not be contradicted. They always remember the dress with the telling evidence.
That columnist suggests that the meeting was done without Hillary's knowledge. There is no chance Bill dared this meeting without the OK from Hillary. They are not unaware of what the other is doing. Neither is naive when it comes to politics, in fact, we are told that Bill is the master of all master politicians.
Why is it so suspect? What was it that had to be done at that moment that made the Clintons so desperate for this last-minute meeting? It was the last chance to set the stage for the Hillary Clinton interview that was scheduled to take place on the following Saturday by the people who work for Lynch. The risk of exposure paled in comparison to the need for this talk.
There can be no doubt that Bill and Hillary knew that interview was going to take place five days after the meeting. Lynch also had to be aware of that. Thirty minutes were spent together. There had to be an exchange of information.
The Clintons wanted something. We are not dealing with political neophytes. We are dealing with very unscrupulous and calculating people who plan out their tactics prior to acting. They weigh the consequences of each move and the way it which it can be covered or spinned. They obviously knew that if the meeting became public it would be scandalous as it is. Yet the Clintons went ahead with it. Much had to be at stake.
Bold Bill took the chance. He wanted to impress something upon Lynch. Was Bill just calling in his IOUs. He gave Lynch the job as US attorney; he just wanted to make sure she remembered and will properly thank him. Lynch might be the most honest person in the world but Clinton compromised her by the meeting – she had to say it was social because too much was at stake  to say otherwise.