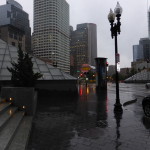 This isn't about the federals. It's about my disgust with the general system in Massachusetts for punishing criminals. We have a beautiful young woman named Amy E.Lord who is no longer with us because of that system. The fine media coverage of her murder exemplifies the horrors our the Massachusetts justice system.
There is this creature who was arrested for assaulting two women and may be involved in the murder of Amy Lord. His name is Edwin Alemany. He is 28 years old. He was arrested for assaulting two other women around the time that Amy Lord was kidnapped, forced to visit five ATM's and finally stabbed several times and dumped in park in the Hyde Park section of Boston.
I don't know whether Alemany did that. I do know him being out on the street able to assault two other women shouts out at me that the prosecutors and judges are failing in their responsibilities. The police have done their job to protect and serve the public by arresting people like Alemany but those who are charged with following up on the police conduct have failed miserably.
A news source reported: "Alemany has a lengthy criminal record, and has been arrested 17 times by Boston police dating back to when he was 14 years old. His first arrest was armed for breaking and entering and destruction of personal property at a Roslindale home in 1999."
In 2003  he was charged with assault with attempt to murder when he stabbed a man. The Globe reported, "He has been in and out of jail, largely on charges such as assault and battery and receiving stolen property."
It was reported "Alemany was also arrested twice in 2010. In the first incident, Alemany was charged with stealing a motor vehicle, having a burglarious instrument, destruction of property and negligent operation of a vehicle. In the second incident, he was charged with two counts of assault and battery with a dangerous weapon, motor vehicle larceny, having a burglarious instrument and driving while license suspended." 
For the 2010 offenses he received 2 years in the House of Corrections. He was released in 2012.
When I was prosecuting I started a career criminal program. It dealt with guys exactly like Alemany. There are two things he exemplifies. That some people will always be committing crimes and society deserves protection from them; and that the constant resentencing to the house of corrections (or even worse putting a person who has served a prior jail sentence on probation) is a waste of time for it serves no purpose.
My program consisted of finding the criminals like Alemany and enrolling people in it. The idea behind it was that they had spent enough time in undergraduate education taught in the house of corrections and it was time to promote them to the graduate program of prison. I convinced the DA, Bill Delahunt, to let me use some of the better younger ADAs who were looking to hone their trial skills before juries to bring them in to the program to go after these folks.
To understand how it works you have to know that many of the crimes that Alemany was charged with have prison sentences with them. Possession of burglar tools, A&B dangerous weapons, and malicious destruction of property can get one 10 years in prison.  Without having studied Alemany's record closely, I assume he could also have been charged under MA General Laws, Ch 269, sec 10G, which provides mandatory sentences for people previously convicted of violent crimes up to 15 or 20 years in state's prison.   Also, if he is sentenced to prison rather than the house of corrections he can be deemed a habitual criminal under the Massachusetts law and locked up for much longer periods.
You also have to know that criminals like him don't mind the Houses of Corrections because they've been there more than in their homes but are in deathly fear of going to a prison. I had a defendant once who pleaded with a judge to sentence him to six consecutive terms of 2 years in the House rather than an 8 to 10 at Walpole prison.
When I was getting people like Alemany off the street for the protection of people like Amy Lord the superior court judges would often complain that the type of cases I was bringing in front of them were not worthy of their consideration. They looked at the crimes and not the criminals. They just didn't get it, and I see they still don't.
It's time someone stop playing games and look at how we handle criminals who demonstrate their behavior cannot change. We've had enough horrible tragedies in Boston without having more that could be prevented. I've been out of the job for a long time but I see that the inability to tell who the real criminals are and the failure to properly punish them has come back in vogue. Why have a criminal justice system if you can't keep people like Alemany in prison and keep young women like Amy Lord safe?