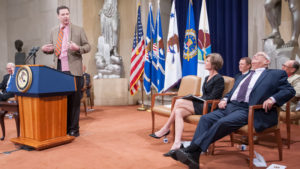 It sure is thickening and will soon come to a boil over. Everyone has taken their knives out; those that haven't are running for cover.
Attorney General Loretta Lynch who heads the Department of Justice is supposed to be the top law enforcement official in America. Lately she seems to have learned her job in the Nixon Advanced Institute of Cover-Up. She tried to shut Comey up but has now pushed him overboard. She has enough problems.
A congressional committee investigating the deal with Iran to exchange prisoners for money which happened a while ago asked her some questions in writing. She dodged and weaved so much that one congress person said she was effectively taking the Fifth Amendment.  
Then we have the Phoenix Tarmac meeting between Bill and Loretta. The FBI should have been all over this but stood back. Here's one report on it: "Bill made small talk about golf and grandchildren and [former Attorney General] Janet Reno, and he kept at it for nearly a half-hour. It didn't make any difference what they talked about; all he wanted to do was send a message to everyone at Justice and the FBI that Hillary had the full weight of the Clinton machine, the Democratic Party, and the White House behind her. It was clearly tortuous for Loretta. Bill told me later that he noticed there were beads of sweat on her upper lip."
NIce guy that Bill, he intimidates the attorney general. He then laughs at her. Typical of the Clinton bullies.
No doubt though she got the message.
When Comey gave his talk clearing Hillary you might recall the first part he laid out all her misdeeds. The article reported: "Lynch had promised President Obama and Valerie Jarrett that Hillary would not be indicted. But here was the director of the FBI on national TV laying out what appeared to be an unassailable case for prosecuting her. . . . Finally, she couldn't stand to watch him anymore. She covered her eyes with her hands and let out a string of curses aimed at Jim Comey. And then, three-quarters of the way through his news conference, Comey dropped a bombshell."
That, of course was that he would not prosecute her. He must have known better. Lynch didn't care. She saved Hillary and herself.
Why did Comey cave? My guess is his buddy, Mr. Fix it, 51-year-veteran of the Justice Department David Margolis called in a favor. (They are shown above.) Comey figured he owed him or felt loyal to him. Comey gave his speech on July 5; Margolis died on July 14. The Department of Justice lost its hold on Comey.
Now come up to the present moment. The Clinton Clone Washington Post reports that Loretta Lynch tried to stop Comey from sending out the letter.  An unnamed insider in the Justice Department was quoted as saying: "These officials told him the department's position "that we don't comment on an ongoing investigation. And we don't take steps that will be viewed as influencing an election, Director Comey understood our position. He heard it from Justice leadership, . . . It was conveyed to the FBI, and Comey made an independent decision to alert the Hill. He is operating independently of the Justice Department. And he knows it."
How can Comey work independent of the Justice Department when he is a Justice Department employee?
You can just imaging how much poor Loretta Lynch is being hammered by Obama and the Clintons for letting Comey get off the ranch. She is his boss. Comey is supposed to do what she tells him. That's how our government is supposed to work.
It had to be Comey was thinking: "Fool me once that's on you; fool me twice that's on me." He told Justice to stick it. He went ahead on his own.
It is amazing that there is a person in DC more concerned doing right and protecting his reputation rather than being a toady to the powers. If that is the case the FBI and the country's loss will be great when Comey leaves as he will have to as this debacle unravels.
Having seen a Dracula movie on TCM last night I can envision the Clinton gang in DC as Dracula approaching Comey with their greedy grins and Comey pulling out the crucifix and they recoil back in horror. You would not like to be a fly on Hillary's wall since she is madly banging away at it.