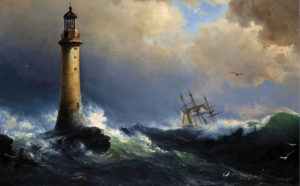 I'm an old guy. When I read about the cruise ships presently floating in the ocean waters with no ports to land in I think of the old Kingston Trio song "My Father was the Keeper of the Eddystone Light"  and the words "Yo, Ho, Ho the wind blows free, Oh for the life of the rolling sea." 
In early February the Diamond Princess which was docked in Yokohoma started to reporting on the coronavirus infections on it. It had 61 confirmed cases by February 7. We heard of another ship, the MS Westerdam, in the middle of February being  not being able to dock in some countries and finally doing so in Cambodia. On March 5 there was the news of a coronavirus outbreak on the Grand Princess located off the shore of California. It was finally allowed to dock on March 9 at Oakland where the passengers were tested.
Now it seems to me that anyone with an ounce of common sense would have been well advised to avoid going on a cruise by the time the middle of February rolled around. I would also have thought that the cruise lines would have stopped going on cruises for a while until a better grasp of the problem was in hand.
I, of course, was mistaken. There are at present "least ten ships around the world – carrying nearly 10,000 passengers – are still stuck at sea after having been turned away from their destination ports in the face of the Covid-19 pandemic."  You have to ask yourself why did the cruise lines continue to continue business after the coronavirus was first seen as a major problem. Professor Ross Klein "at St John's College in Newfoundland who has written four books on the cruise industry, said companies should have acted weeks earlier to cancel trips and refund customers. He noted that cases of cruise ships being turned away from ports as a result of coronavirus fears began as early as January and escalated in February, with passengers being quarantined on the Emerald Princess in Japan on 3 February. "There is a level of greed on the part of these companies," he said. "They want to make every penny – and they make money when people are on the ships.""
Almost all of these ships are registered in countries other than the United States. They do this to avoid paying U.S. taxes and to follow its labor laws. Many use the ports in Florida from which to sail. Trump has said that it is important to keep them in business. He mentioned his friend Micky Arison who owns Carnival Cruise line. Who is this guy I wondered. I learned: " Arison's wealth at $5.9 billion, making him the 169th wealthiest person in the world. In 2009, he earned $7,201,110, which included a base salary of $880,000, a cash bonus of $2,206,116, stocks granted of $3,618,481, and other compensation totaling $496,513."  I'm sure your heart goes out to him and earnestly want the American taxpayers to help him through this difficult time. Or perhaps you may think if he wants his company to survive he might want to use some of his money to help it do so.
There is though a greater concern that must be addressed. What is to be done with these ships that have people on board and no country will accept them? It seems that some of them are heading to Florida even though the ships had not previously been there. One is in the Pacific Ocean and planning to go through the Panama Canal and slip on into Fort Lauderdale.
We do want to protect our fellow Americans on board although they were foolhardy in going on these cruises which makes me wonder why do we have to protect people who refuse to protect themselves. I also wonder the wisdom of having them come to our ports. Do we test them all and isolate them for 14 days or send them off through America and elsewhere? We've already seen the CDC botch up one incident. Will it handle this any better?
The greed of the cruise owners, the obtuseness of the passengers, and the availability of an  America port all go together to hand us a problem we really shouldn't be faced with. Fortunately, against the hope of Trump, Congress has not handed these cruise lines a bailout at the present time. Sometimes it gets things right.