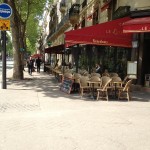 WBUR reported yesterday: "J.W. Carney Jr., one of Bulger's lawyers, said Bulger was "pleased that he held to his principles" by staying silent and refusing to participate in the sentencing.
Bulger's lawyers said he believes his trial was a "sham" because he was not allowed to argue that a now-deceased federal prosecutor gave him immunity to commit crimes." 
I scratched my head after reading that. I had to go to the Oxford English dictionary for succor. It defined principle as: "A personal code of right action; rectitude, honourable character."  That's what I thought. The word incorporated the idea of something good. Suggesting that a man who I considered devoid of all good stuck to the principles left me bewildered. How can someone without something hold on to them?
What further bothered me is the idea that his principles are based on his idea that he did not have a fair trial wherein he complains he should have been able to present evidence to the jury of the screwball idea that someone could tell him he could murder whomever he wanted and not suffer any consequences.
He whines that he should have been able to show the jury that AUSA Jeremiah O'Sullivan, who now is conveniently dead. told him he would not be prosecuted for any crime, past, present or to come. Boil that down to its basic ingredient. Whitey wanted the jury to believe that O'Sullivan was able to immune him for all his past murders and give him immunity to murder people in the future.
To keep this in perspective, remember no one else in our history had ever made such a claim. There is also no written record of it having been made. The only proof of it will come from the mouth of Whitey. Although it is clearly beyond the power of anyone in America, including the president or the attorney general, to give another person the right to murder others, for now lets pretend that O'Sullivan could do this.
The next question is did he?
One way to determine whether such an agreement existed is through the actions of the parties involved. What did Jeremiah O'Sullivan do to show that such an agreement existed; what did Whitey do to show it.
There are things you could point to that show O'Sullivan had an agreement with Whitey: he kept him out of the Race Fix case and tipped him off that Lancaster Street was bugged. You could also say that Whitey was never prosecuted during the years O'Sullivan was around, that is up to 1990. On the other hand O'Sullivan denied ever meeting Whitey or that he ever had an agreement with him.
When we look at Whitey's action it is then when his claim gets broken up upon the rocks. Where does he show that he thought he had a free ticket? Every actions he took points just the other way.
Consider his relationship with former FBI Agent John Connolly. What does he tell us about it? He said he was never Connolly's informant but that he paid him for information and I assume protection.  Apparently he paid him hundreds of thousand of dollars since we were told that at one time he allegedly gave him $50,000. Why is he doing that if he has carte blanche to commit any crime he wants?
Consider the way he did his murders of McIntyre, Barrett, Davis, and Hussey. He didn't do them openly. He murdered them and then hid the bodies. Buried them so no one would know about them. The same way he hid the bodies of McGonagle and King who he murdered before the date of the agreement. If he thought he had the right to do this, why is trying to hide his actions and why did he not change his MO from the way he acted before the agreement?
Consider his actions when he thought that he was going to be charged with racketeering; charges that did not include any of his murders. These related to his money laundering and extortions, minor crimes in the realm of things. When he heard the indictments were to be returned he fled. If he thought he had a deal, and O'Sullivan was alive at that time, why didn't he come forward and tell us of the agreement rather than running?
All his actions during his criminal life were no different from any other criminal. Nothing he did from 1979 onward ever showed that he believed before he was arrested that he had the right to commit these crimes. There exists no witness other than himself to the conversation between him and O'Sullivan.
What we are left with is a man without principle who says he is pleased because he stuck to a principle of remaining quiet and refusing to participate in his sentencing. What he didn't seem to understand is that he fully participated in his sentencing because all that was necessary for him to do this was his presence not his words.
If anything in this long drawn out episode is a sham it is Whitey's claim he had a right to murder anyone he choose.