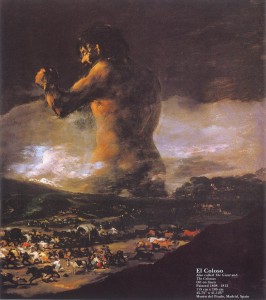 There is something about the people who proclaim that they are socialists that is woven into their fiber. They want to be on top while others do the dirty work underneath. Reading about W.E.B DuBois during his early years writing for the NAACP publication The Crisis he noted something to the effect that the communist and socialists wanted the blacks to be their shock troops while they remained behind the lines in their upscale New York apartments.
I'm not suggesting that all socialist/communists are likely to immediately flee when the going gets tough, I'm sure there are some who would stand around to measure the degree of danger, but in general, if you allow me to generalize, the socialists are not street fighters preferring to fight their battles over wine and cheese.
I'm speaking, of course, of Bernie Sanders fleeing from a speech he was supposed to give to several thousand people when a couple of women agitators ( yes, literally two)  decided the crowd had come to listen to them rather than Bernie. Bernie was about to speak when they demanded he give them the microphone. He unhesitatingly relinquished the podium and stood confused in the background.. One of the women began a rant. Bernie after listening a bit decided to hot-foot it out of there.
Bernie said later after his safe escape: "I am disappointed that two people disrupted a rally attended by thousands at which I was invited to speak about fighting to protect Social Security and Medicare, I was especially disappointed because on criminal justice reform and the need to fight racism there is no other candidate for president who will fight harder than me."
Incongruously, and I'm sure you noticed, in his statement he said he was invited "to speak about fighting" and "the need to fight racism" and "who will fight harder than me." He talks about fighting right after he high-tailed it out of there when it was time to fight. That's what I mean about the socialists type such as Bernie: they are full of fight in the safety of their living rooms.
You have to ask yourself how a guy like Bernie thinks he can sit in the Oval Office. I can just hear him now after Russia invades Poland. "I am disappointed Russia saw fit to help the Polish people establish a new form of government. Rest assured I will fight to see that the atrocities are kept to a minimum. I assure you no president will fight harder than me in doing this."
Reading of Bernie's abandoning the ship, I'm reminded of a time in Norfolk Superior Court where a judge cut out of the same cloth as Bernie was conducting hearings in a case involving around eight defendants who were Walpole prisoners. Most were lifers and had as much respect for the court as shark for a swimmer. At each hearing the defendants became bolder. They talked loudly, put their feet up on tables, kept standing up without reason, etc. The judge studiously ignored them.
At the penultimate hearing they all wore hats they designed in the prison. The judge pretended not to see them. They laughed and shouted. The judge pretended not to hear them. A week later they came back again with the hats and the turmoil. The judge ignored the circus in front of him. However, by this time he had some state troopers sitting in the jury box in plain clothes to protect him. One was a trooper from Walpole, Jack N. whose size and easy-going manner belied his toughness.
The judge carried on ignoring the defendants' uproar and flouting of court order. It seemed impossible he did not notice one of them pull out a cigar and light it. He did. Jack N. didn't. He stood up in the middle of the hearing in the jury box, walked back to the inmate who was twice his side, and said in a voice that could be heard outside the courthouse: "Put it out" The inmate inhaled and blew smoke into Jack N's face.
Before you could say: "Jack N.," the inmate was seen flying heads over heels over the bench. A melee broke out. The uniform troopers stationed outside the courtroom poured in and gleefully suppressed the short-lived uprising.
And the judge? That's what reminded me of Bernie. At the first sign of trouble he fled from the bench and hid in his lobby. He'd later call for an investigation of the trooper.