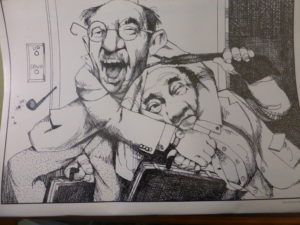 Morris testified as to taking money and wine from Bulger and Flemmi. He testified that when he did it he did not think it was wrong. Everyone gasped at the thought. I didn't. I understood how Morris thought that. He convinced himself that they were giving him something not because they wanted him to do something but out of friendship. They liked him. There were no strings attached to the gifts. They would not affect in any way him doing his job.
That's how he thought at the time. He knew the law that for there to be a bribe he would have to do something in exchange for any money or other gift that he would not have done otherwise. To have bribery there must be a "purpose of influencing the action of an official in discharge of his/ her public or legal duties." Morris truly believed he was not being influenced. His job was to protect these top-level criminals.
Other FBI agents who may have received gifts believing they would not influence their actions would later the deny receiving them. Who needed the aggravation? How many agents took Red Sox, Celtic or Bruins tickets back in those days? Do they still take them today? What about a free meal at the local Chinese restaurant or someone picking up the lunch tab? Tickets to a play? No ticket for a traffic offense? FBI agents and other law enforcement officers routinely get something because of their positions. These aren't bribes because most of them are not going to let the gift influence their actions.
Morris never admitted that the gifts influenced his actions, that he did something he otherwise would not have done. He also took gifts and money (a loan he said) from a big bookie in Chelsea. There too, he felt these were not bribes because the bookie was his top echelon informant. He was going to protect him anyway as part of the FBI's program.
Connolly sat through his trial listening to lies (the star witness John Martorano's evidence was rejected out of hand by the jury) and tales of his relationship with Bulger and Flemmi. He understood that was part of the job; the jury didn't because it was not explained to them sufficiently. He did not testify. He was convicted of several of the minor charges.
I noted I concluded that the prosecution of John Connolly was done to protect the FBI. If there had not been a media stink about Flemmi and Bulger there would probably have been no trial. Even the desire by some in the U.S. attorney's office and the Boston Globe and Boston Herald to do in Whitey's brother would not have been enough for a prosecution had the FBI not been embarrassed.
My book had the effect of throwing a hand full of grass during a hurricane. The FBI since its creation under the strong hand of J. Edgar Hoover had been able to stomp out any criticism. Even as late as 2004 after investigating what it believed gross misconduct in the FBI's Boston office in the case involving the Teddie Deegan murder, the use of Joe "The Animal" Barboza as a witness, and the long-term incarceration of some men, the House Committee on Government Reform wrote about the FBI's involvement in that case that: "perhaps the greatest tragedy of the Boston debacle is the doubt cast on the integrity of the men and women who work for the Justice Department and, particularly, the Federal Bureau of Investigation. The United State Department of Justice is, without a doubt, the finest federal law enforcement organization in the world.  The men and women of the Justice Department are dedicated, professional public servants. The integrity of the vast majority of these men and women is beyond reproach."
True to form no matter what happened in the FBI the first part of any report was to tell us that it and its agents are too wonderful for words except for a couple of bad apples. That may be so but it overlooks the fact that something was wrong that allowed these bad apples to taint the barrel. It also overlooks that perhaps other bad things happened but they were kept quiet about and never became public. In other words, it was obvious that the FBI was not, despite all the vast majority of its agents being beyond reproach, which I concur with, able to properly police itself because of its fear of embarrassment. It is plainly difficult in any police force for one person to criticize another for the enemy, the public, lurks at the gates.