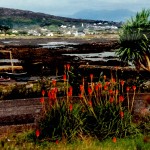 Needing to replace the information it had been gathering through the use of electronic bugs(EB), the FBI under intense pressure developed a Top Echelon Informant (TEI) program that Judge Mark Wolf told us about in his 661 page findings.
The FBI discovered the Mafia in the late 1950's and put up to 1,000 EBs into Mafia locations by breaking into them. The use of EBS was of questionable illegality although the breakings and enterings were clearly illegal. In July 1965 the FBI was told to stop using EBs. It panicked. To replace them it came up with the TEI program by November 1965.
The difference between an EB and a TEI was quite significant which the FBI seemed not to grasp. EBs had no criminal background, did what the FBI asked, asked nothing in return, and gave unfiltered information about the Mafia leaders. TEIs were mostly murderers who were going to continue murdering people  (some suggest that because they became allied with the FBI they would stop their murderous ways — I happen to believe the opposite would happen), they did what they felt like, they wanted a great deal in return such as protection from other law enforcement agencies, and they gave the FBI some information but certainly not all they knew and there was no way to guarantee its correctness.
The TEI program was corrupt from its inception. When the FBI joined with gangsters it became a gangster. J. Edgar Hoover never wanted to investigate the Mafia. He feared what would happen when the FBI did this. His fears were realized. During the panic time he let down his guard and invited the criminal element to get into the FBI boats so they could all row together toward the goal of defeating the Mafia.
Relying on people who are betraying their friends is always a bad idea. If they'll betray their friends they'll certainly betray you. You have no way of knowing when they are telling the truth. They'll tell you what they think you want to hear but no more.
Into this corrupt program the FBI created and still maintains it recruited John Connolly. His job was to bring as many TEIs as he could into his FBI boat.  He had a knack for doing it and was patted on the back repeated by his bosses for his skill in recruiting them.  He had so many coming on to row in his boat that he had to hand some of them off to boats being rowed by other FBI agents.
One rower was already on the boat the FBI gave to Connolly when he came to Boston. That was Steve Flemmi who had been brought aboard by FBI Agent Paul Rico who would die in jail awaiting trial on murder charges in Oklahoma. Sort of poetic justice to Rico since he let some men be convicted of murder knowing they didn't commit it and they died in prison.  (Some people suggest that is all right because they were bad guys anyway. It follows then we should do away with the inconvenience of trials and just lock up all the bad guys.)
Steve Flemmi had a friend Whitey Bulger who Connolly also brought into the boat. The FBI from the top to the bottom was pleased with Connolly for having brought on two strong rowers like Stevie and Whitey. For fifteen years they pulled mightily to the cheers of the FBI and brought the boat past the finish line which was the destruction of the New England Mafia family along with allowing the Boston FBI to do what no other FBI office had ever even dreamed of doing, recording a Mafia induction ceremony.
Connolly left the FBI in December 1990 surrounded by the praise of all.  TEIs Whitey and Stevie were retired.  No longer being protected by the FBI they became targeted by other federal, state and local agencies.
The US Attorney along with investigators started to find people who would start giving them information about Whitey and Stevie using the grand jury to squeeze them and giving them the old — "you'll go to prison forever and lose all your earthly possessions unless you tell us what you know about X, Y and Z." Obviously, their memories were jolted and they gave them what they wanted. Then miracle of miracles they learned what the paper boy knew, that Whitey and Stevie were gangsters. They were charged with RICO but were not connected to any murderers.
The RICO charge is the same type racketeering charge used against probation officers who sent out rejection letters to applicants for jobs. It seems as easy to charge a person with racketeering as it is to get an indictment which we know is quite easy from the old saw: "a prosecutor can indict a banana peel."
Whitey and Stevie got tipped off about the indictments coming down. Whitey took off. Stevie hung around. In January 1995 Stevie got arrested. He asked the FBI to get him bail so he too could take off. No one seemed to remember he was on their boat. He got the cold shoulder.
Up to this time no one in the general public outside the Boston Globe really knew Stevie and Whitey had been on the FBI boat. Stevie sat in jail for three years sulking. Connolly who did remember tried to keep his spirits up — but he could only do so much to undermine the case against Stevie. When Stevie figured Connolly couldn't help spring him he told the world that he and Whitey had helped row the FBI boat sitting in the TEIs seats.
Stevie thought this would get him out. Big mistake. The other gangsters  figured they now had an excuse to get out themselves by squealing on Stevie — the theory being it's okay to rat on a rat — but in truth a rat is a rat no matter who he rats on because rats always find justifications for ratting. The other criminals were pushing, shoving and toppling over each other to tell stories about Stevie and Whitey, the more lurid the better, the better the story the better the deal.
It's then we learned about their murders. Unlike what we are led to believe no one knew of most of these murders before that time. But things got jumbled up and we were all supposed to have known about them since 1975 and analyze the situation as if we did.
With all this going on everyone began to wonder how in the world could the FBI have given Stevie and Whitey a seat on its boat. The FBI was totally embarrassed. This was the one thing J. Edgar Hoover feared most — that his bureau would look like a bunch of fools which they were in creating a program to partner with murderers. Again panic ensued. The FBI got its propaganda machine going saying: "We were duped. We didn't know what was going on. They were on Connolly's boat! He is a rogue agent!"
They threw Connolly overboard — saying he was bad even though he did what they wanted him to do. It was a brilliant move. Connolly is still in prison.  The FBI is no longer embarrassed. The media agreed it was undone by one rogue agent. No other agents were charged.
The FBI could have its cake and eat it.  It could pretend it was duped and it could still keep partnering up with gangsters. The TEI program is very much alive and ongoing today.