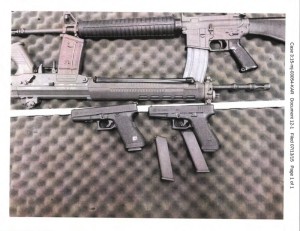 I had a discussion the other day about the matter involving Boston Police Captain Robert Ciccolo's son Alexander age 23 who was arrested on July 4, 2015, by the FBI. There is little doubt that Alexander was a clear and present danger to the public and should have been deprived of an opportunity to effectuate his dastardly plans. I think we can all agree on that and for that we can be thankful that the FBI did make the arrest.
What bothered me about the incident are a couple of things. First, my heart goes out to Captain Ciccolo. As a parent I have always kept in mind that at some point the child you nurture and love is going to go off and make decisions for himself (or herself).  How hard it must be to see that child become incapable of making rational decisions because of a mental illness over which one has no control. It is difficult to imagine the torment he, his wife and family have gone through. We read that his son has been estranged from the family for years; but as we know from the parable of the prodigal son there is always hope for a change. How gut wrenching then must Captain Ciccolo's decision have been to tell the FBI that he thought his son was a potential terrorist threat knowing that in doing that he probably had forfeited any chance of reconciliation with the family.
The FBI began watching Alexander after the father gave them the information on his son last fall. At some point in July they successfully introduced an informant into the situation. The informant was able to enter into various discussions with Alexander in which Alexander showed his desire to commit a terrorist act at some time and some place. He had no definite target in mind it seems talking at one point about attacking a bar celebrating the Supreme Court's gay marriage decision or attacking a police station in another state or some college cafeteria or dorm.
Alexander had become a follower of IS and planned to carry out these attacks as a way of showing his support for that terrorist group. He had told the FBI informant that he would like to carry out his attack prior to July 31. To make the attack effective he wanted to get some firearms and also planned to buy a pressure cooker like the ones used in the Boston Marathon terrorist attack. On July 3 the FBI watched as he bought a pressure cooker at Walmart. He then sent a message to the FBI informant noting his success in doing this.
Alexander apparently has had mental health issues in the past. According to a reporter at NECN  he had been in and out of mental health facilities since he was a child; when he became 18 he refused further treatment. That may explain his becoming infatuated with the evil IS but it does not justify his actions.
I said I was bothered by a couple of things. The first is the gun charge. It was the FBI that supplied the four guns to Alexanders. It gave them to its informant to give to him. When the guns were handed to Alexander they arrested him with the guns. They then displayed the guns as part of their publicity about the arrest.
Without the FBI supplying the guns Alexander could not have purchased them himself. From what I understand he did not have the money nor would he have passed the required gun background check because of previous convictions. The FBI admitted in the Charleston case where nine people were murdered that its failure allowed Dylann Storm Roof to buy a gun.  It is fair to say Alexander would not have had guns but for the FBI help. Although legally this is not entrapment, it strikes me as a little bit disingenuous to suggest those guns were part of his plans in carrying out those attacks.
The other part is the timing. I wrote about FBI Director Comey telling us of over ten arrests of people who were planning terrorist attacks for the Fourth of July. He said those arrests thwarted the attack. I suggested he is trying to spook the American people.
Alexander did not plan his attack in conjunction with the Fourth. Nor did Rahim or the other two who were arrested with him. These four have been mentioned in connection with Comey's statement in news accounts. If Comey is including those four arrests as part of those who planned the attacks on the Fourth then we know he is not leveling with us. It is time that he tell us the identity of those who planned the Fourth of July attacks so that we can judge his truthfulness.