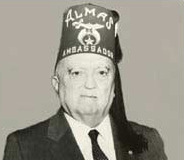 I was rereading Deadly Alliance by Ralph Ranalli – sub titled "The  shocking true story of the FBI's Thirty-Year Bargain With Evil" – that bargain was the creation of the Top Echelon Informant program. Ranalli quoted Former FBI Agent John Connolly who described it as: "You have to understand the business that I was in. I was in the murder and mayhem business. When I was developing a Top Echelon Informant, by the very definition of the program, I was developing a murderer. Do I know what murders they committed? You suspect. But it was never confirmed, and you never discussed it with those guys."
Earlier he stated, "Agents of the FBI had the authority to allow their informants to participate in criminal activity. I did my job that I was told and authorized to do by my superiors. These were priorities that were set on Pennsylvania Avenue by the Department of Justice and the FBI."
Ranalli leads up to those quotes by showing that is exactly how the program operated. It was a secret program created by J. Edgar Hoover which cut to its essence authorized FBI agents to enter into long term relationships with gangsters who were highly placed in gangster organizations and to turn a blind eye (as Connolly indicated above) to their crimes including murder in exchange for information they may supply the agent relative to the organization. Even in cases where they did not turn a blind eye but where they knew their high placed informant had murdered someone, the FBI made the decision whether the information it received was more important than terminating the relationship with the criminal gangster.
Ranalli ends his book which was published in 2001 telling us of all the changes that have been instituted by the Department of Justice and the FBI to change its Top Echelon Informant program to avoid future situations where it was protecting murderers. The real change from what I can see was changing the name to "High Level Confidential Informant."  
Ranalli tells how now an official from the FBI and two lawyers from the Department of Justice were to approve any high level informant. They would be reviewed every six years. They also, among other things, expressly forbid agents from sharing information with their source.
What Ranalli seemed to miss is that there already existed sufficient rules and regulations that set out how the FBI agents should act dealing with informants. They were ignored. Ranalli does indicate that these new rules that "more tightly govern the FBI's use of dangerous criminals as informants" may have the same effect as the prior rules by noting they "still depend on human beings to honestly enforce them."
The FBI being the FBI seemed to lack those type of folk interested in honestly following the rules. Ten years after Ranalli's book we learned there was another Top Level FBI informant named Mark Rossetti. He was suspected of being involved in at least six murders. He was charged with "overseeing a sprawling enterprise involved in heroin and marijuana trafficking, home invasions, gambling, and loan sharking." 
There were 44 conversations intercepted between Rossetti and his FBI handler over a 4 month period. In one of the conversations the FBI agent said  "my job is to keep you anonymous and keep you safe.'' He also said: "You don't have anything to worry about if things down the road happen, but if that happens, we'll have to deal with it as it comes. I will have to start working it out.'' Rossetti said he believed he would be protected by the FBI after he realized he was being targeted by State Police. 
Over a decade ago the FBI joined in the prosecution of an agent who did what it set him up to do. It called the agent a rogue agent. It told us it would never again have relationships like it had with Whitey Bulger and Steve Flemmi. We learned that within a decade it was back doing the same thing. There is no reason to believe it has not continued doing it. How do we protect ourselves when our protectors do not follow the rules?