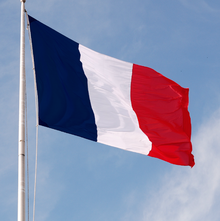 It may be fair to say that without the French help we would not have won the Revolutionary War. If that is that case we owe France a lot. N'est-ce pas ?
What is true is that our relationship with the French has never run smoothly. Take for instance what happened during WWI. Our military leader General John Joseph "Black Jack" Pershing is rumored to have said "Lafayette we are here!" suggesting it was time for us to pay the French back for our freedom.
One thing we did not count on when we brought with us some of our black soldier is that they would be treated as equals by French military and its people. That upset a lot of our military brass who tried to explain to the French that the blacks were not equal in America. The result was many black soldiers returned to America believing they should be treated in the same way as the whites. Some even, if you can imagine it, thought they should have the rights to social equality. J. Edgar Hoover did everything in his power to make sure those thoughts did not last too long.
We were appreciated by the French people when we helped liberate their country during WWII.  The French leader Charles de Gaulle though appreciative was bull-headed. He wanted to do things his way rather than how we told him. This caused some friction. But who could forget his figure at the front of the foreign leaders who had come to America for the funeral of John F. Kennedy.
I remember being downtown at main side Quantico during PLC training and seeing the headlines in the paper about trouble in Laos. I had never heard of it before so I scanned the paper and saw it was next to another strange country, Vietnam. The first Vietnamese words that I recall hearing were Dien Bien Phu.  In May of 1954 the Vietnamese communists defeated the French there. I did not follow events closely back then but I found this which sums it up:  "On May 7, after 57 days of siege, the French positions collapsed. Although the defeat brought an end to French colonial efforts in Indochina, the United States soon stepped up to fill the vacuum, . . . " 
Did we do that to please the French still  thinking we owed them something? The next Vietnamese word I heard was "Diem." Then many more came along. When we started in 1959 and finished n 1975 filling that vacuum at one point we had more than 500,000 Americans in the field. We decided to shut the vacuum off after suffering almost 60,000 deaths.
The French tried to tip us off after that about getting into war with Iraq. We sought its support but it told us our plan was folly. What are friends for if they won't follow you over a cliff? You may recall the movement to change the name of French Fries to Freedom Fries. Some in Congress thought that would teach them not to try to stop us from engaging in an inane war! That was in 2003; we're still there. Are we trying to break the Vietnam record for our longest war ever?
I happen to enjoy visiting France, especially Paris. I have never found the French people to be other than friendly and cordial. My first time there visiting Versailles I needed to purchase some film. I went to a store that I was directed to that sold it. It was a little mom and pop type store. It had a sign on the window: "Closed for the Month."
I learned that small businesses in France would shut down for a month. Vacation was more important to the owners of the business than making extra money. That is a real alien though to Americans.  Which leads me to the purpose of this post.
To honor the French contribution to our freedom I am instituting the tradition of giving those who work with me on this blog a month to take a vacation as of August 1, 2015.
I have to thank Shiabelle a, my faithful amanuensis who edits and types these posts; Luluisiana our financial wizard who keeps the books and records in order; Doramosa, our legal expert overseeing the operations; Dexter, Freddie and Sid who do so many things backing up, research and the like are equally appreciated. They, and our part-time workers along with the interns will be gone for a month with pay.
I'll be spending less time here concentrating on going on some field trips with Sparkie, my Boston Terrier, and Pip, my Beagle, who have been cooped up too long.  Even aside from that, not having my staff's help the posts will be more sporadic and only when the happenings, like the Republican debate this Thursday, call for it.
To all I wish a happy and healthful remaining summer. I expect the staff to return around Labor Day.
Adieu