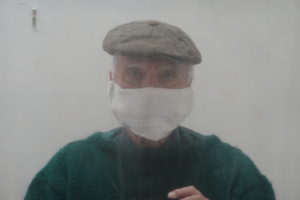 I was going to post today about how Melania's talk about doing Christmas decoration and the  kids being taken from their folks was shocking but because of her illness I will refrain from doing that. Rather in light of the drastic change in conditions I do want to talk about wearing masks something I have advocated for months against the Trumper skeptics. It brings me to say that it is hard to feel any sympathy for Trump who has used an anti-mask strategy to divide the nation. Did not he receive his grand comeuppance when he found himself  reduced to wearing a mask coming out of the White House as he headed for the Walter Reed Hospital.
Where was his talk about infringing on his freedom? Did you notice no one about him insisted on being free to wear a mask or not? Did you see the Secret Service people driving his vehicles with their masks? Had Trump insisted that he need not wear a mask it is fair to say he might have had to walk to the hospital.
How is it that Trump who took every precaution to avoid catching the virus did catch it? It does show the virus is more fiendish than thought as it finds its way through the most prepared defenses. Right now Trump has to be thinking "I lost my presidency, my presidency, for a want of a mask." Truly,  his arrogance and his febrile fear of appearing unmanly by wearing a mask landed him in the hospital. If only he had listened to the clear  medical advice he had received he would be enjoying himself in the White House at this moment.  If only he did not enjoy looking at and preaching to the unmasked folk crowded in together thinking how they were his people unlike those cowardly liberals who were hiding behind their masks and social distancing he would not find himself in his present pickle.
Can one feel sorry for a man who has led the country is such a poor manner who catches an illness that it has taken the lives of over 200,000 people? It is not that he did not know the danger of the virus that was spreading over the land killing people of every age and walk of life, mostly old like himself. Now he will find out that old people want to continue living as much as young people and do not want their lives cut short by something that could have been prevented.
Is one supposed to feel bad for a person who plunges his hand in a pot of boiling water who ends up with a crippled hand and severe burns? Is not that what Trump did with his urging of his people to disdain those who tried to act in a responsible manner? Where did the idea that it is a free country where one can do what he or she wants to do without restriction come? Even today  we hear people at the White House say it is an individual decision whether one working in the White House wears a mask.
It is not a mark of freedom to let people act in a way that is harmful to others. We do not let people drive at 60mph on crowded city streets; we do not let people decide whether to stop at a stop sign or not; we did not let people with tuberculosis or Ebola walk through our neighborhoods. No one has the freedom to bring harm to another; no one  should have the freedom to decide whether to wear a mask or not when it is clear that wearing one can help prevent the transmission of the virus.
I would like to think Trump would come out of this a better man. He won't. My greatest fear is that when he recovers, if he does, he will again urge people to avoid wearing masks, will mock those who do, and will embrace the theory of the son of Charles Atlas that the best way forward is for everyone to suffer the way he has had to suffer.