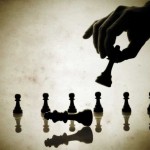 For a while now I've been shouting stop wasting our time. Whether Whitey is an informant or not doesn't matter.  Let's get on with the trial.
A voice inside my head whispered back,  "You don't spend a week in what is in effect a murder case involving 19 victims unless it has a huge bearing on the case." I ran from the voice but it pursued like the Hound of Heaven,"with unhurrying chase,and unperturbèd pace:" "You've got it all wrong," it uttered.
I tried to run from the voice knowing the press of time stopped me from pausing to reflect. I tried to figure it out but life kept getting in the way. The voice would sneak back and I'd say to myself, "what am I missing?" 
I knew it was nothing in the prosecutors' case. That seemed quite straightforward. I knew pretty much what they were trying to do although at times I wondered if they did. I'll never understand why they called Billy McDermott the Brookline detective who said he never saw Whitey and Stevie together over 8 -10 years in Brookline or called Ralph DiMasi a guy who just got out after 21 years in the can.
It was the defendants' case that was giving me trouble. I never came out and said it but although I was pleased as punch with Hank Brennan's first day work over of Martorano, his second day seemed to come up short. I felt maybe Brennan knew he had him down and didn't want to kick him in the teeth as I would have wanted him to do.
I knew Brennan had it in him to go after Martorano and had plenty of material to do it with but he pulled his punches and left a lot of good stuff on the table. Why?  I figured it had to be that it didn't fit into their game plan. If I could figure that out, and I knew they had to have one, then things would begin to fit in place.
Back to Carney's opening I flew quick as a flash to see if there was a clue. There it was staring me in the face. Carney's admission Whitey was a big drug dealer and bookie  and made millions of dollars. It wasn't like Carney to be giving anything away to the prosecutor but I'd written he surrendered about half of the case — a conviction on any of those sent Whitey to ADX — that was the thing he least wanted.
What was I missing?
Then I  began to see the defense strategy or as some would say "the sun began to shine on Marblehead."
Here's where the defense must be going. It is an all-in strategy, the only strategy you can use when you're back is up against the wall with no hope of escape. It is a go for broke — go down fighting — tactic that is only available to someone like Whitey who knows that the loss on any one indictment will spell his doom.
The defense and prosecution pretty much have agreed that FBI Agent John Connolly is corrupt. Defense is now showing that he could not have carried out his corrupt acts by himself. Others had to be involved. We know Morris was involved in taking money, but what about with the phony FBI informant file on Whitey. His job was to review all the informants files but he never seemed to notice the 209s in Whitey's file matched word for word those filed in other files. His explanation that sometimes more than one informant reports the same thing. That's true. But they rarely use the same words as we've seen used here.
If Supervisor Morris was involved, who else would have known of the deceit?  Brennan has already gotten in through Marra that there were other corrupt agents in the Boston office but the Department of Justice (DOJ) decided not to prosecute them. Not only did they not prosecute them, they gave them all a pass. They let them all retire with full benefits or let those who retired keep them. They let what they knew was a gaggle of thieves remain at loose. No one complained.
How is it then that only one person in a den of corrupt agents was taken down? The statute of limitations doesn't explain it. With a little massaging which the federals are very capable of doing they could have made this look like one big conspiracy to commit  murder which is outside the statute of limitations.
Connolly has been convicted of murder, all those in the FBI who conspired with him by setting up these fake records and turning a blind eye to the obvious freedom they were according these gangsters are also implicated. Why was it fixed so that the damage could be limited to Connolly?
Why was he set upon by DOJ which so desperately wanted to put him away forever that they came up with the Florida prosecution and keep yelling out he's the only bad guy?  How explain that the upper echelons of DOJ being so intimately interested in going after Connolly that they assign people from the Office of the Inspector General (OIG) and other DOJ agencies under Wyshak's lead to work to assist the Florida prosecution something never done before in OIG history? Why was his the only case the federals pursued in Florida?
These questions Carney and Brennan (C & B) are raising. They are showing the jury that some thing just do not fit. On one hand it's right that Connolly who took huge sums from Whitey and made up a fake informant record to cover up his actions should be in prison, but since others were complicit in his actions why are they given a pass. The jury will feel uncomfortable and wonder about the DOJ's actions.
Maybe, just maybe they'll suggest to the jury that to go after too many people might just open up a barrel of worms. Put the blame on one guy, suggest all is well in the FBI and DOJ, and let the rest of the world pass us by. And, one other thing, keep up the pretense that Whitey was an informant and the hope that he never gets captured.