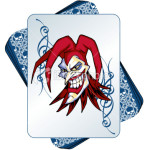 This week we see the commencement of the Great Charade which will receive as much coverage in the local media as the Red Sox Parade. If some had their innermost wishes fulfilled, Whitey Bulger would be fettered to a stake on the back of a duck boat and driven through the streets of Boston. Then the great mass of the citizenry could shout out vile epithets at him and children under twelve allowed to throw small stones at him. Instead of this Lady Godiva-like tour, the event will be held in a courtroom and limited to a handful of people. As for the small stones, the ever mindful courthouse security will search all pocketbooks, backpacks and pockets to ensure no one sneaks any in.
Having attended all of Whitey's trial, I will be sure to miss this tawdry display hearkening back to the Colonial Days of stocks and scarlet letters. But don't get me wrong, I've not a handful of sand's worth of sympathy for Whitey. It's the extraordinary absurdity of the event and its effect on the judicial system that bothers me.
You may remember the extensive media coverage of the sentencing hearing of John Martorano when the families of his 20 victims came into court to express their grievances; or the one involving Steve Flemmi where the families of another 20 or so victims spoke out forcefully. Then you must also recall the publicity when the victims of Frankie Salemme spoke at his sentencing; or even those of Kevin Weeks or the families of the Mafia victims. If you don't remember that media coverage don't feel bad. It never happened.
We've also had the coverage of the victim's families fighting over the division of the spoils of Whitey's 25 million dollars that sit in the hidden safe deposit boxes whose location is only known to a woman now residing in southern Minnesota. We weren't privy to how Martorano or Flemmi's money was to be divided. They murdered more people than Whitey but kept some, or in Martorano's case, all of his assets.
Why then are the families of some victims more entitled than others? It is because what will take place this week is unique in American jurisprudence. No other American gangster has ever gone through such a prosecution induced, court sanctioned, media inspired, public excoriation.
My take on all of this is that Whitey became last weeks' newspaper the day after his verdict which never was in doubt. Once he was arrested in June 2011 it was clear he would never step out of prison again. His trial gave us a chance to see his base character and to see again the sordid type of individuals he assorted with. It was a chance to be fascinated by people like Martorano, Weeks, and Flemmi, tough guys with guns, squirming on the stand suggesting that somehow Whitey made them do it even though Martorano had murdered a half-dozen people and Flemmi a baker's dozen before they met Whitey.
Once they paraded into the sunlight Whitey had his chance to speak out. We had the pleasure of hearing his cry-baby whine that he was treated unfairly, as if anyone cared. Or as if one didn't immediately think of the way he treated so many others.
What a way to slink out of the case with a whine! It tells us much about the man's narcissism when being in a hopeless situation and being a most undeserving character he's accorded some of the best defense lawyers and a spirited defense, which probably could have been even better except for the strictures he placed on counsel, and he's whimpering about his treatment.
I'm told that he may be speaking in court during this hearing. That he thinks he has anything to offer shows the man's delusional view of the world. It also demonstrates, at least to me, how all the matters involving Whitey have perverted our system of justice. There was no need for this circus. It's not because Whitey said he would have pleaded guilty to everything in exchange for Catherine's freedom and the trial could have been avoided, since I don't believe he would have done it; it's just that a simple trial on the gun charges would have accomplished the same thing as we'll now see: Whitey dying in prison.
What all this has done is played into the hand of a man who has this inflated ego who thinks his life has amounted to something of value and that he has something to offer. He loved the crowded courtroom and massive media attention. We should never have given him any of it. He wasn't the worst criminal that existed, those who testified against him bettered him. He was far from the brightest or the most vicious. He took over no waterfronts or unions or other legitimate businesses. He wasn't the bravest or toughest. He was just a small time gangster who resorted with other vicious individuals and preyed mostly on other criminals.
Yet this small time hoodlum whose kingdom was mostly confined to the narrow streets of South Boston has been the subject of around 30 books. I call it the George Zimmerman effect: the media taking an everyday event, tragic though it may be, and making a mountain out of a mole hill.
As for the families of Whitey's victims, I suppose venting will give them some satisfaction but nothing really can make up for losing a loved one. I refrain from criticizing any by suggesting that if one lies down with the dogs she rises with the fleas. Surely some of the victims made poor choices in their lives; but that didn't give Whitey the right to murder them.