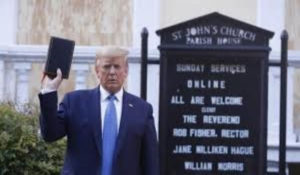 Remember Covid-19?  What ever happened to it.  It's pretty nice to be able to go outside and know we no longer need masks or keep  social distancing. Bing-bang, just like that, if we believe Trump and company it has gone away.
Of course I am exaggerating a bit. For Trump it never seemed to come. He and his lap dog Pence did not fall for the scam of the scientists and wear masks. They knew the scare tactic suggesting a pandemic had come to America was put out there by the enemy of the people in the – what does Trump call it – "the Lamestream Media" – pushing a fake narrative on the easily duped leftists in America. What Trump was trying to get across despite the narrative put out by the  scientific community was that if Covid-19 had in fact come to America it could be easily wished away?
Some day we will have an opportunity to read a book called, "The Wisdom of Trump" where he will explain how he knew all along that the Covid-19 was as phony as the idea of Evolution. Pence will pen the introduction explaining the outcome of the Scopes Monkey Trial was other than we were led to believe. The book will explain that all science is fake and that we should follow those who know the truth intuitively or have learned it through direct communications with the Almighty. Trump, not only knows it intuitively but he as he showed us as he stood in front of a church holding a Bible that he has that as his source. Just with that alone he chased Covid-19 from America as St. Patrick chased the snakes out of Irelan.
How did he describe that photo op? Yes, the photo was perfect; just like the telephone call to the Ukrainian president was perfect.
Meanwhile back on the earth I had a chance to take a look at the recent figures from the non-existent Covid-19. Unfortunately I have not been following them because life got in the way demanding my attention to other things like bills and family. But I did take a look at the positive cases in our country having last looked at them on May 22 the Friday before Memorial Day weekend. I first wanted to see if there had been much of an increase in those cases in the United States over that time. Positive cases went from 1.59 million to 2.03 million or about a 22% increase.
I watched a C-Span show the other day that had four scientists on it talking about Covid-19. I know – they are scientists and should not be believed – but they said positive cases are not the metric we should be examining because they depend on testing but we should look at hospitalizations and deaths. I will do this later but I do think the status of positive cases has some value.
Here's a little taste of what I found. The fives states with the least increase in positive cases are: New York at 6.2%; Hawaii at 6.5% with its requirement of 14 days isolation for anyone coming to the island; New Jersey at 8.1%; Connecticut at 11.3% and Massachusetts at 13.5%. That's quite a reversal than we saw in the past. Is it because these states are still very much in the lock-down position?
What about the other end.  The five states with the largest percentage increases in positive cases are: Alabama at 42.8%; South Carolina at 43.9%; North Carolina at 47.8%; Arkansas at 51.4%; and Arizona at 52.6%.
The former are governed by Democratic governors except for Massachusetts with Governor Charles Baker; the latter are governed by Republican governors except for North Carolina with Governor Roy Cooper. You do know Governor Cooper refused to allow the Republican convention in his state unless it was conducted with masks and social distancing. Trump changed its locale to Florida.
Will the increase in positive cases lead to more deaths? What about next Saturday's Trump rally in Oklahoma that has seen a 25.4% increase in positive cases since the day before Memorial Day? Will that push Oklahoma death rate much higher? Much to think about.
I suppose the most important question to think about is whether we can abide Trump much longer with endangering  of the American people with his blindness to science.