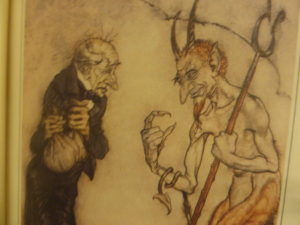 Another witness was Paul Vrusho a long time FBI informant – probably part of its ill-considered and borderline idiotic top echelon informant program where the members of that program are allowed to commit crimes and are protected by the FBI – who despite numerous crimes never did time. He testified that back in 1991 the defendant confessed to him he committed the murder of the guard at a condominium in Hampton Beach, New Hampshire. He also agreed that he told the grand jury that the defendant admitted this to him six to eight months after they first met in 1988 which unfortunately for the prosecution was before the murder took place.
Vrusho said he passed the information Trooper Hambrook or FBI agent Rafferty. Rafferty said he had no recollection of that.  Hambrook said he was told that by Vrusho and he passed the information on to Rafferty. Hambrook said he never documented that in a police report. on to law enforcement. He said the reason he remembers it was "On something as serious as that, I wouldn't forget that."   I doubt the jury bought that story that knowing the identification of a murderer he never reduced it to writing or told the Worcester police.
The third major witness, Richard Rose, who was in jail on domestic violence charges and met the defendant who was awaiting trial said the defendant told him he was the "trigger man" in the robbery. I'm sure the jury figured DiMasi who had spent more time in the can than out would hardly be apt to tell a guy he just met he was guilty of the crime charged.
This had all the appearance of being a federal special: jail house confession, the person who committed the crime immunized, an FBI informant who happened to recollect some long ago conversation, and a trooper remembering him repeating that to him over a quarter century before. It was all out of central casting; it works well in the federal courthouse on the waterfront but not in front of a legitimate house where it was playing.
During three hours including lunch the jury after a week's testimony took a poll. Each juror must have voted to acquit. Each juror could see through the deal making. Each juror sensed there was something wrong with the case. Surprisingly each juror arrived at that conclusion without knowing what was wrong with case.
There was something very wrong. Oh, I should mention the defendant's name. It is Ralph DiMasi. Here's a little look at his life. A life long bank robber. An old time gangster who believed if you did the crime and got caught you did the time without complaining.
He was a passenger in a car driving on Morrissey Boulevard. A guy named O'Brien was driving.  Gerry Angiulo had given John Martorano and Howard Winter a contract on DiMasi. When John and Howard pulled up beside O'Brien's car they opened fire. O'Brien died right away. The car crashed. John and Howard stopped to see their handiwork. DiMasi who had been hit  with eight bullets, climbed out of the car, pulled out his knife, and chased after John and Howard. Seeing this guy coming at them with blood all over him they fled. He got himself to a hospital where he kept his mouth shut when asked by the Boston police what happened.
During Whitey's trial the federal prosecutors wanted to present his shooting to the jury. The murder of O'Brien was one of the murders charged against Whitey Bulger. They called DiMasi as a witness. He testified reluctantly. In fact, his testimony turned into an attack on the prosecution's case. I paraphrase DiMasi but he said something like this: "federal justice, I'll tell you what it is, you have a guy who murdered 20 people walking the street and you have a kid commit one murder and they want him to get the chair. That's what dealing with the government does." His comment stung the prosecutors.
There was one other person who testified against the prosecution that irked them. That was ex FBI assistant special agent in charge Bob Fitzpatrick. He would be indicted for perjury in a clear move of naked vengeance since nothing he testified to had a bearing on the outcome of the case.
Unfortunately for the federal prosecutors they had no crime they could pin on Ralph. But they wanted to get back at him just like they did with Fitzpatrick. They never let a humiliation pass.
It's hard to accept Di Masi's cold case was coincidentally brought back to life without the evil hand of the federal prosecutors. A long time FBI informant came in very handy. The evidence when presented to a state jury was laughed at. Who knows what would have happened in federal court?
Was Di Masi the man who murdered Mr. Morlock As the great Trumpet would blare out: "Maybe he did, maybe he didn't." But there was a great deal less of evidence against Di Masi than Mohammed bin Salman and they put him to trial.