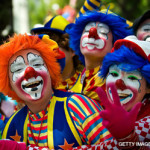 Sorry folks.  My website is hosted by Go Daddy. They knocked me off the air today because my bill was not paid for them to host the site. It was my fault since I thought they had been paid by my Pay Pal account. Actually it was my son's Pay Pal account that was used to set up the account and get it up and going.
So when it came time to renew they took the money from his account. I thought they took it from mine. He was checking his bills and saw the money was taken from his account, he checked his Go Daddy account and figured a mistake was made so he told Pay Pal to rescind the payment. We had forgotten to change the Pay Pal account on here to me.
Go Daddy was contacted – it took a while to figure it out – once we did it went out of its way to get things back up.
Sorry for the inconvenience and thanks for your patience.