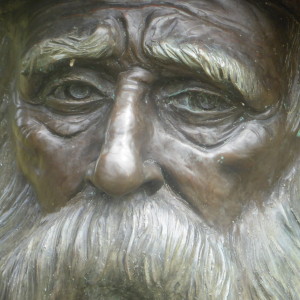 When I first started practicing law I represented a Teamsters Local. It had a dispute with some Cambridge City folk. I went across the Charles River in an attempt to mediate the dispute which I learned could not be done because my client preferred a good fight to a good settlement. That is when I first heard the  name Harry Spence. That was about forty years ago.
So Harry is not a spring chicken. Assuming he got out of college when he was 22-years-old in 1969; and assuming further that 46 years have flown by since that time; he has to be fast closing in on seventy years of age. In a sense that is a perfect age for someone to be named as the first Court Administrator of the Massachusetts Trial Court by the Supreme Judicial Court. You would not want someone who was young with new ideas and highly skilled in computers because that would upset the way things have been done forever. You rest comfortably in the old adage that you can't teach old dogs new tricks so bring on one and we can pretend something new is happening and not upset grandpa.
I've never met Harry but I have read some of his statements. The Boston Globe had a well written headline recently that read: "Call it Big Data's Big Dig — $75m, 19 years, still not done."  If the headline ended after the first six words it would have been up there with Vincent Musetto's N.Y. Post headline: "Headless Body in Topless Bar.
The article pointed out that in 1996 the Legislature in Massachusetts approved 75 million for a new computer system in the courts and nineteen years later it is still not finished. Even after adding many million more dollars the system that will be created will be a little more than junk.  To "find basic docket information on most civil and criminal cases . . . you'll have to call a clerk or visit the courthouse in person." 
When Harry was asked about how much money over and above the 75 million was spent, having been in the job for three years he said he had no idea. Then Harry came up with the Skippy Adams defense. I used that when I was in Boston Latin School in the 7th grade. I'd bring home my report card that looked like a Christmas tree decoration with all the red marks and cringe as my father examined it. My only response to the ire in his eyes was: "Dad, you think that's bad, you should see what Skippy got."  What else could I do to explain my inability to understand that when I carried my books home from school in my green school bag I was supposed to take them out and study rather than just giving them a nice ride over the trolley to and from school.
According to the article Harry "pointed out that other states, such as California, have had their own problems with major tech projects."  He also noted other state agencies that had problems. It is so bad that back in 2003, a mere twelve years ago one judge said: "This system will be a national leader." 
It seems the system that will eventually be up and running will really be useless since it will restrict from the public almost all information. A retired judge made the obvious statement: "I personally don't think the court system should be withholding information. It's a public court and the public is entitled to know" what happens with cases."  That what a normal person would think; but that's not what the judges or Harry think.
Harry says the public has no right to see: "personnel and performance" data which shows what the judges are doing such as whether some have "lighter caseload than others, take longer to make decisions, or rule differently on cases than their colleagues." Harry said: "We don't provide personnel performance information on anyone, nor would we ever."
This is all pretty pathetic. $75,000,000 plus for a system that gives out no information to the public. Right now the Joint Committee on the Judiciary is holding hearings on minimum mandatory sentences in drug cases. STOP. That's not important when the system is falling apart.
It's time to consider the system as a whole. We are well into the 21st Century and our courts operate as if we are still in the 19th Century. It's time to throw out the old, sorry Harry, and bring in some young bright people who don't answer to the judges who will bring change to those incapable of change. I'll tell what should be done in my next post on the subject.