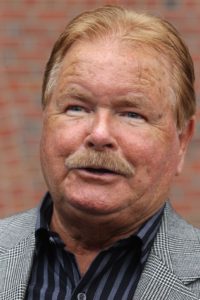 The part whether Whitey was an informant or not was a big part of the trial. It was really a tempest in a teapot. Whitey's lawyer made much of it; the prosecutors also seemed hell-bent on refuting it. In the big picture it mattered little. Take your choice on the issue. The overwhelming evidence is that he was an informant.
What is important was whether the premise upon which Fitzpatrick wrote his book and gave his testimony was true. He tells of all the people who would not listen to him when he urged them to close Whitey out. But he admitted that he never advised Whitey be closed.
It turns out Fitzpatrick did nothing to bring him down even though as ASAC he was the one in the position who could easily have done it. His admitting that he had "never advocated that James Bulger be closed as an FBI informant" goes to the heart of who Fitzpatrick is.
Let me explain.
When I first read his book I had problems with it as I noted here. He told about his meeting with Bill Bulger. Everything at the meeting was fine. Agent Connolly set it up. Fitzpatrick wanted to meet him. Bill sat with him and Connolly for a little longer than twenty minutes. He told him, as he told every other person whom he met, that if he could ever help him out he would be glad to do it. It was the usual dog and pony show put on by politicians as part of the daily routine. Fitzpatrick wrote: "Billy couldn't have been warmer or more gregarious."
Then Fitzpatrick wrote: "when I shook his hand I had the same feeling as when I'd first met Whitey. . . . I caged the meeting in a framework that Billy, too, was a con man used to getting what he wanted  . . . . The specter of that arrogance never once rose in our carefully worded, yet cautious exchange. . . . We exchanged more small talk but nothing of substance"
He wrote that Connolly asked him if he wanted to meet with Bill. He went on "I knew he was bringing me to see Billy Bulger as the guy who posed a threat to his brother and, perhaps, to him by connection. Or, maybe, I thought, Billy had requested the meeting  so that he could get a look at his nemesis." Yet he admitted in pleading guilty he posed no threat.
He wrote about walking back from the meeting "I knew what it was like to be bullied, pushed around, and that's the feeling that grabbed hold of my gut. Billy Bulger was using power in place of his fists. And he wanted me to know I was alone, helpless against powerful forces I could neither control nor fully comprehend." He pointed to nothing to justify this alleged feeling.
He then told how he faced fear before but as he "drove back" to the Federal Building (hardly likely they drove from Center Plaza to the State House) "I knew exactly what I needed to do: close Whitey Bulger and put the Boston office back on track, no matter how many names I had to take or asses I had to kick." Yet he admitted he did none of these things.
Sadly it is all a lie. He wrote that after meeting with Whitey he "spent all night working on a detailed report that I presented to Larry Sarhatt the following morning. My unequivocable (sic) recommendation was to close Bulger as an FBI informant." That never happened; no report ever surfaced.
 In pleading guilty he admits this is false. If it is false so is Bill having any idea he is Whitey's nemeses. So is his statement about needing to close Whitey.
Worse, he wrote when Whitey went on the run that "Bulger's disappearance dredged up all the painful memories about my failed attempts to close him. The fact that Bulger was now on the lam presented a real threat to me. . . . "
He writes all this yet he admits in pleading guilty he never did anything that would have made Whitey have any grudge against him.
I wrote about his book a second time here I said: "I find it difficult to believe much of what he says . . . . "   Now it is clear to me why that is the case.
The prosecutors did a public service in bringing us the truth. The instincts of the judge were right on the mark when he said about the punishment that: "he perhaps earned more." The prosecutors may have been of the same mind. His health gave them pause. Instead, they rested comfortably knowing the truth was established.
I was wrong in criticizing the indictment. It served a valuable public purpose. It helped set the record straight.