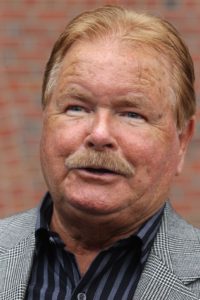 I was wrong. All my instincts told me Bob Fitzpatrick had to go down fighting the charges against him. Yet, on May 5, 2016, he agreed to "plead guilty to all counts in which he is named in the above-referenced indictment." In exchange for doing this the prosecutor and his lawyer agreed to recommend "probation for a term of 2 months."
 I tried to understand his reasons. He wanted to avoid the off chance of going to the can. The cost of defense was piling up. His health may have worsened.
On the other hand unless he wanted to make his life a lie none of this mattered. His reputation was at stake. The sentence to prison would not have been too draconian after his many years service, if the cost of counsel was too high he could go it by himself since so much was at stake; and his health was as it was and really unlikely to be affected by persisting on.
If he fought it he could hold his head high. He could aver he was wrongly convicted and that everything he said was the truth. Otherwise, as now, he has nothing left but the shame of perpetuating a fraud.
As I reflected on this I understood more why it was necessary to indict him. He told lies that if left unchallenged would be considered truths. His lies did not affect the outcome of the trial; they did reflect on the honesty of others. I would always wonder how was it Whitey said he was not an informant and the FBI continued to use him. His lies upended the true story behind important events.
The prosecutors really had no choice. They knew the truth. They felt compelled to set the record straight.
Fitzpatrick admitted lying about the following: (1) that he received special instructions to go to Boston because of major problems there. The truth was this was a routine reassignment and no special instructions were given; (2) that at a meeting he spoke with James "Whitey" Bulger who told him he wasn't an informant. The truth was Whitey never said told him he was not an informant; (3) that he wrote a report and advocated that Whitey be closed as an informant. Then the truth was that he never advocated Whitey be closed as an informant; (4) that was he retaliated against because he reported SAC Greenleaf for criminality. The truth was that he was demoted due to his falsification of reports related to a shooting incident; (5) that he arrested Gerry Angiulo. The truth was another agent made the arrest; (6) that he found the rifle that was used to murder Martin Luther King. The truth is someone else did.
The significance of the Angiulo arrest and the finding of the murder weapon are of little importance. The other matters though are of great significance in determining the truth about Whitey Bulger and the FBI in general.
Fitzpatrick's book had him going to the Boston FBI office to clean up the problems. It set the stage for his tale of being "the FBI agent who fought to bring [Whitey] down."  Now it turns out to be a lie. He wrote about a tense meeting with Whitey. Whitey refusing to shake his hand. He returned  Whitey's stare. Agent Connolly "lurking to the right of Bulger in a darkened corner" who said hello and "and then disappeared back into his shadowed alcove."
He writes he asked Whitey what he had done for the FBI "[b]ecause you're the informant."  He told how Whitey bristled. He wrote how he fought a guy for the Golden Glove title at Madison Garden who would "make mince meat out of Bulger." He tells how he pressed Whitey asking what was doing for the FBI and Whitey replied: "I don't do shit for you." He would testify that Whitey "[a]t one point, he even said he wasn't an informant. He said, I'm not an informant."
He agreed that was false. How much else is false when the critical aspect of his meeting is false? Where does the truth melt into fiction? But that was not the worse of it.