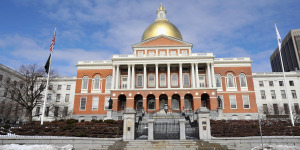 We love our professional games in Boston. The Red Socks became big winners after 85 years and then went on to repeat as recently as a couple of years ago; the Patriots (they probably should get a new name since their bona fides as patriots has to be called into question when we learn they charged the military $700,000 for them to honor a National Guard soldier at each of the 8 home games) have won top honors in recent times probably every two or three years; the Celtics for many years won title after title giving us an exciting team; and the Bruins seem to rise to the occasion on occasion to give us Lord Stanley's Cup.
We also seem to love another professional game which is not played so openly as those mentioned but is carried on year after year producing not one but many winners. It is the inside game carried on in our State House which runs rampant outside the ken of most of us. The players in that game are the big money people and their friends in the media who tell our elected officials what they would like and sure enough it seems they get what they want.
One game that is going on at the present time is the one involving DraftKings an outfit that is doing the same thing that the Mafia is not allowed to do. It is taking bets on the outcome of athletic matches. That is gambling and it violates Massachusetts General Laws, chapter 271, section 16A.
Everyone knows it is gambling. The experts on gambling in the State of Nevada which regulates gambling in that state have pronounced what it does as gambling. So too the the NY attorney general who has decided that the operation run by Draft Kings is gambling. He stated: "It is clear that DraftKings and FanDuel are the leaders of a massive, multibillion-dollar scheme intended to evade the law and fleece sports fans across the country. Today we have sent a clear message: not in New York, and not on my watch."
DraftKings brazenly responded when it heard the AG was going to enforce the law sending an email to its players, saying, "Attorney General Eric Schneiderman is considering preventing New Yorkers from playing daily fantasy sports. Hey, New York, protect your right to keep playing daily fantasy sports. Contact the attorney general today!"
Imagine Whitey Bulger telling all the guys who placed bets with his bookies to contact the local DA and protect their rights to keep on betting on the football games?
AG Schneiderman has rightly labeled what DraftKings does as gambling. The attorney general's office said daily fantasy sports "appears to be creating the same public health and economic problems associated with gambling." So do others. "The National Council on Problem Gambling says it has received reports of "severe gambling problems" in some people who play daily fantasy sports, while noting that seasonal competitions with minimal prizes "offer little risk."
Why then does the Massachusetts Attorney General Maura Healy announce on September 16 quite a while ago that she was confused. She could not tell whether Gamblingkings DraftKings was a gambling outfit or whether it was a game of skill. She said "The point is this: This is a new industry. It's something that we're reviewing, and we'll learn more about it."
I thought when she said; "new industry" she was talking tongue in cheek.
Industry?  One definition of that word is: "economic activity concerned with the processing of raw materials and manufacture of goods in factories." I don't exactly see it fitting that definition.
New?  Putting money down on a chance with the hope of getting a reward has been traced back to 2300 BC; and to colonial America; and is longstanding in Massachusetts. Any definition of gambling would include the DraftKings operation.
Sorry, Healy truth be told it is an old industry with a new twist. If I set up a track having cats or roosters race rather than dogs or horses would that make it a new industry. The matter is simple. It's perhaps the second oldest profession in history.
What the AG is doing leaves a bad stench. Her review of this simple matter has been ongoing for almost two months. It is something like that which makes the federal prosecutors start smelling a rat.
Why is it only in Massachusetts that something so obviously in violation of the law has to be reviewed? Are we being taken out to the old ball game?  Is big money calling the shots? The NY Times notes: "Nearly every N.F.L. team has a sponsorship deal with DraftKings or FanDuel, and two powerful N.F.L. owners — Jerry Jones of the Dallas Cowboys and Robert K. Kraft of the New England Patriots — have equity stakes in the companies."
What other hints are there that the "usual" game is happening. AG Healey's former boss, the former AG Martha Coakley has been hired as a consultant to represent DraftKings. Just like Mayor Walsh thinks the feds are looking at him and he hires a former federal prosecutor. Stuff like hiring friends of prosecutors to stop prosecutions doesn't raise eyebrows in Massachusetts. Hire the right lawyer and stuff disappears. Even the governor, Smiley Baker, plays along saying: "I don't think anybody ought to do anything until after the attorney general makes some decisions."  
There's a simple, right and honest way to handle this. I do not understand why it is not done. Accept that DraftKings is running a gambling operation, shut it down, and if we want sports gambling then file a bill with the Legislature to make it legal.
Unfortunately, as we have seen in Massachusetts, courtesy of our federal prosecutors, if there is an easy right way to do things and more complicated wrong way, our politicians will usually choose the latter. This delights Boston's federal prosecutors who for years have found Massachusetts politicians to be are easy pickings.