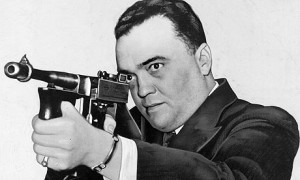 Whitey Bulger went to his death suggesting he was not an informant. Irish people he suggested hated informants; but it was the Irish people who produced a multitude of informants that enabled the British to suppress one plot after another. So many, that a fictitious one, Gypo Nolan, is almost as well-known as the real life Mata Hari.
There's evidence on both sides of the coin from which people can argue. But it really doesn't matter one way or the other anymore, not even to Whitey, because that never should have been an issue to consider. What matters is that he was treated by the FBI as if he were an informant. He was afforded all the protection the FBI could provide because it believed he was one. That protection allowed him to continue his nefarious dealings without fear of interruption. It can hardly be suggested he was a major criminal when he did not face the obstacles most criminals face. His road was made smooth thanks to the FBI's overwhelming concern for his well-being. How is one a master criminal when his crimes are ignored and he is protected?
Some suggest Whitey corrupted the FBI. That has everything backwards. The FBI corrupted Whitey. It said to him go and commit whatever crimes you like and we will not do anything about it. Who under that imprimatur would not be led astray?
The history of the FBI's corruptness began when it undertook to wage war on the Mafia. That is something J. Edgar Hoover always feared doing and held off doing until his hand was forced. His first act was to establish in each office a group of men who were ordered to go after the Mafia. This was done in the beginning by planting bugs in the offices of its leaders or doing other electronic surveillance operations. One office, that of Raymond Pattriaca, had bug or taps done on it for three years. All of this was done without court orders. The evidence gained would not be admissible in court but that mattered little to the FBI which was mainly looking for intelligence.
Under Lyndon Johnson, the FBI would be ordered to stop placing these bugs. Hoover, anticipating this, created another means to get information on the Mafia. He had established the Top Echelon Informant Program (TEI). This program, which continues to this date, is so abhorrent to the idea of law enforcement that it should have been destroyed at its moment of birth. That it wasn't, and that it continues to today, points to an incredible arrogance and naiveté.
The TEI program is designed to procure top-level criminals who are actively involved in criminal activity as partners with the FBI.  In exchange for a TEI providing information to the FBI that person will be protected by the FBI. He can continued his criminal acts as long as he gives it information on others. He can continued his criminal acts even though the FBI knows he is involved in murdering other people.
Steve Flemmi became a TEI on November 27, 1965. The FBI books showed he was closed and opened  from that date forward but the truth was he was never closed. Flemmi was indicted for blowing up the car of an attorney John Fitzpatrick, and murdering one of the Bennett brothers. He also gave his handler, Paul Rico, information on his other activities involving murdering other people. He would be tipped off that an indictment was coming down against him allowing him to flee. The FBI then arranged for the indictments against him to be dismissed so he could come back and continue his criminal ways. What the FBI was countenancing was its informant murdering people.
It would do the same thing with Whitey Bulger. Facts don't lie. The FBI knew it had TEI's who murdered people but continued to protect them. It did that regardless of whether these people were informants. Don't ever believe Whitey corrupted the FBI!
It corrupted itself.