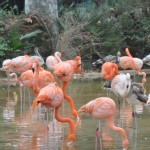 At the National Gallery in Washington, DC, which I visited many, many years ago they had a display of American Naïve Paintings.  One, The Cat, seemed particularly important to me for the message it was telling me. I went to the Gallery's gift shop and found that it was selling that painting on a poster. The price was beyond what I usually could afford to spend but I had to have it. It has looked down at me from the wall of my office ever since.
In the 1991 book describing the painting The Cat on page 444 it suggested there may be a connection between The Cat and Aesop's Fable's tale of "The Cat and the Cock." I usually defer to experts in other areas when they make such suggestions. But it this case I have to suggest the expert was way off base. The meaning of The Cat is absolutely clear, at least to me. It's an absolutely perfect rendering of the old saw "A Bird in the Hand is Worth Two in the Bush." Like many old saws its origin is obscure. The expression was found in a reference book in 1670.
My reason for keeping it was to remind me that I should be satisfied with what I already had achieved in whatever investigation or case I was working on. It was particularly useful when dealing with criminals we'd developed a case against. Many were then willing to turn on their buddies. As a prosecutor, I found the cops were always ready to go on and on chasing someone else, even what appeared to be pots of gold at the base of rainbows.
I don't intend that as a criticism. The chase was always the more exciting part of the job. Once the quarry was cornered and captured the exhilaration of the moment quickly passed and we again wanted to test our wits against another gang of hoodlums. It was tempting to go along on the hunt but The Cat would remind me to look at what I had and consider what I had to give up to move on to another target.
For you see, the birds we had in our hands always wanted something in exchange for their information. Some wanted freedom, others a lesser amount of time in the cage, or even a better type cage. Once you made the deal with the bird you were stuck. You had to hope the next bird would have more meat on it than the one you let get away.
I saw The Cat staring at me today. Over that last couple of days I wrote about Catherine Greig. The feds capture two types of birds; those that squawk in return for something and those who hold their tongue. The feds main mode of investigating certain kinds of cases is give those who chirp away some type of extra feed in exchange for some other bird. It's not the best way to build a case because the birds they are dealing are motivated to lie to help themselves but it's a traditional, easy, time approved and recognized way of doing business: paying some birds for their testimony.
Greig didn't want any extra feed. She didn't utter a peep. That's fine. We have amendments to our Constitution which set out our rights against the government. One says, "nor shall [any person] be compelled in any criminal case to be a witness against himself." 
Grieg exercised her right to remain silent. Having done this, she should be sentenced to prison for what any person similarly situated who committed a similar offense would receive. Unfortunately, the federal prosecutors and judges don't do that. There is now a movement afoot as shown in her case where they combine together to come up with reasons to punish people who don't talk. These are the sentence enhancements we've seen applied to Greig: increasing the base points (additional points add on years to serve in prison) over the normal recommendation, adding two points for obstruction of justice because she misstated her assets and two more for living with a guy with a gun fetish. A several years upward adjustment to her sentence really imposed for her silence although disguised by legal mumbo jumbo.
We've become such a nation of incarcerators where adding extra years to a person's sentence seems no more significant than an extra dash of salt to a recipe. Federal prosecutors and judges coerce defendants into surrendering their Constitution right by threatening to add punishment to them if they don't. In State v. Strayhand (don't you love that last name) when cops threatened Strayhand with enhanced punishment if he didn't confess, his confession was deemed coerced and involuntary.
Yesterday, a comment by Patty set this out in greater and more compelling detail. I urge you to read it. It speaks of Antigone's dilemma and tells about the prosecutor's actions toward a Congressman's wife (no attempt to coerce there) whose crimes were much more serious than Greig's.