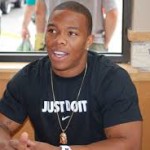 I'm bothered by domestic violence. I don't see how a man can assault a woman. I understand the frustrations and ire that can occur between couples but for a man to let it go beyond harsh words into a physical assault is something I can't grasp. Unfortunately, it happens more than I care to think about. Usually the starter to such a happening is alcohol or some other substance that changes a person's ability to exercise self-control.
That domestic violence happens at all is something that should concern us. What bothered me most about Ray Rice's horrible assault on his fiancée Janay is how it has been handled by the media. Out of the blue the media flipped out over it. The commonplace was made into something esoteric, the mundane magnified to something extraordinary. His assault gave the media a "gang-up" time when all take their shot, nary a dissenting word is heard discouraging the mad rush, all the running together feels good, and then everything goes on as before except for the person, or persons, trampled under.
So it is over the past week with the NFL. Reading the media coverage you'd believe the initials stand for the National Felon League. The felons seem to be in the Commissioner's office, clustered around the heartless billionaire owners, cleverly cozying up with the coaches, but mostly the over 1,500 helmeted men who lurk about on the playing fields who are aided and abetted by the million or so who gather weekly to cheer them on. Perhaps that is why our police have become so militarized because of this ever growing criminal enterprise.
What was once a remarkable business is written about lately as if it were a sleezy, dark enterprise found at the end of a stanky littered alley. But like all stampedes the dust will soon settle. Sports writers will fondly recall how they rose to the occasion during the frenzy and yearn for another thrilling ride. The calm and boredom of normalcy will return.
My favorite example of the recent media Kumbaya was by a woman sports writer. She tells us she is a fan of violent sports including the NFL. Not only that, she is a victim of domestic violence.  She tells us we "embrace" the violence in the sport that the NFL promotes. (I guess it means we like the games.) She suggests we are "shocked when NFL players bring brutality to their families." She decries Ray Rice's slugging of his wife Janay. She tells us she has "compassion and kindness" for such women. (As if the rest of us don't.)
She ends noting: "The fans want a sports world full of violence, they want players smashing each other, making each other bleed. They want a sports war on the field. At what cost? Spare me the outrage about how it's shocking that these athletes can take their rage to another arena outside the one that pays them. The real question is: Why wouldn't they? When it comes to money and product, the blood thirsty always get what they want. And since you reap what you sow, we are their partners in crime."
Such pap! She wants us to feel responsible for men assaulting women because we like to watch NFL games or boxing matches. I'd be willing to wager $10,000 (of Mitt's money) that there is much less domestic violence among men who engage in violent sports than among those who avoid it. One robin does not make a spring; one outrageous incident of domestic violence does not turn the NFL into a batterers convention.
Domestic violence is an ongoing nasty situation affecting many thousands of women each year. It is and should be condemned but to suggest that it occurs because men engage in violent sports is to trivialize it. It is too important of an issue to isolate it like that. It takes our attention away from the great majority of men who assault women and the need to address that issue.
Ray Rice for his momentary inexplicable brutality against a woman that he will marry in an incident that is unrelated to his job has been unfairly scapegoated because of the media madness. The NFL felt compelled to utter profound inanities while continuing to do what it does best which is to entertain its millions of fans while pocketing their money. It tries to pacify the media mob by throwing Rice to it as the Caesars did the Christians in the Colosseum. With each passing week these media lions will soon be satiated as the games get more exciting and their outrage will diminish and those who have most loudly condemned Rice will forget about him as they get caught up in writing about their favorite sport.
Rice made a bad mistake probably due to demon rum. That does not mean he should be barred from the NFL just because the sports media decides to pretend something new has happened. Like all repentent sinners, he should be brought back into the fold.