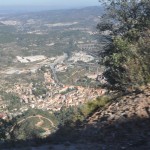 I should tell how I developed an interest in this matter from a prosecution perspective.  I joined the Norfolk DA's office in 1976.   I had worked for the prior eight years or so in a small Boston law firm.  That firm handled all types of cases but was considered a criminal law defense firm.  Some of the clients were high level Mafia people.
I never had a personal relationship with them — that's a group that really likes to deal with their own countrymen.   Aside from that in the Boston area, and maybe other places, there's a rivalry among the Irish and Italians.  Sometimes it became bloody, but for the most part it was just that neither group liked or trusted the others.  It was always strange because there were lots of what were then considered "mixed marriages" between Irish and Italians.
Although I didn't directly represent any, I knew about their cases and did legal work on them.  In the early '70s shortly before I left private practice, I had a bookie client in the then notorious bookie case of Commonwealth v. Vitello, the first case in which evidence gained from wiretapping was to be introduced at trial.  This required me to become familiar with the wiretap law of Massachusetts, in order to defend my client, one of six or seven charged for gaming violations.
The criminal cases were not the only matters we handled.  I was deeply involved in the equal educational opportunity case before Judge W. Arthur Garrity better known as the school busing case that disrupted the public school system in the city for years.  Our firm represented the Boston School Committee, then as unpopular with the media as Whitey Bulger is now.
It was a very busy life for me, perhaps too busy.  I was happy to leave it and become an assistant district attorney.  I wasn't in that job too long before this Quincy detective DA Delahunt had sicked on me, Peter Gallagher, started calling me.  Peter wanted me to come over and meet some of the people he was working with.  I kept putting him off but eventually just to stop the calls I went to this address in Quincy he gave me.
It was off Hancock Street at the back end of the Boston Gear Works building.   A small door at the left rear of the building opened up to a narrow stairway that took me to a second floor.  There, in two large office rooms, were the people Peter wanted me to meet.  It was a handful of detectives who were working as a special unit in what they called the Quincy police sub-station.
They looked a little wary when I entered.  They had to have had several heated meetings prior to that time trying to determine the appropriateness of bringing me into their location.   They had obvious concerns that my law firm's prior clients were Mafia people and other gangsters; against that they wanted to get into the electronic surveillance business which could only be done with an assistant district attorney.  I was the only one with experience in that area.
This is early in 1977.  On the wall hidden behind a cloth which they lifted after assuring themselves I was on the level, they had huge schematic laying out the organized crime groups in the Boston area, right at the top was Whitey Bulger, not too well-known by others but already a major target of this Quincy police unit.
In charge of the unit was Lieutenant David Franklin Rowell.  I mention his middle name because down the road we would set up an undercover operation in a office building with legitimate businesses.  We had to give it a name so we used the name Franklin and Fletcher.  I was Fletcher.  That's the name this group tagged on me.
It was with this small Quincy police group that I did my first wiretap.  It was this group that taught me a great deal about how to do effective investigatory police work.  The wiretap was on a bookie operation down near the Fore River shipyard.  Later I would do other investigations with them.
The people in the group were dedicated detectives who worked hard.  It was the only group for a long time that had Whitey Bulger in their focus.  It was the only police group that Whitey Bulger absolutely hated.   There are many FBI reports filed by John Connolly telling how Whitey complained about the Quincy police and the Norfolk DA's office.  He accused them of harassing him and having a vendetta against him.  Whitey apparently believed that the cops were supposed to be his friends or roll over and go away whenever he was around.  He felt this group to be a bane to his existence.
Dave Rowell was its leader.   He was one of the most effective police leaders I ever met.  He had a pleasant persistent personality.   He had the ability to get what he wanted.  Always ready to negotiate with me over tactics, refusing to take a no, he always seemed to be able to convince me to see it his way which was usually the right way.  Highly motivated, totally honest, fully courageous, he was highly dedicated to doing the job right.  He interacted with his men as their equal without letting anyone doubt he was in charge.  He was an absolute pleasure to deal with because he was a man of his word and always followed through on any promise he made.
The four detectives in the unit at that time were all different in personality and ability.  It was a compliment to Rowell that he could  make them work as an effective unit.  They were: Peter Gallagher a real street cop skilled at ferreting out information who had no peer in being able to get information from the street.  He had his hand on the pulse of everything and could blend in with any group, develop friendships and gain information and informants;   Paul Snow who was expert at surveillance.  If there was an important need to follow someone or watch a site we always depended on him.  Always relaxed, smiling and willing to do the extra bit necessary, he helped keep the tensions down.  Gallagher and Snow were best out in the street.  Dick Bergeron an expert at analysis and digging out obscure connections, the in-house master at making links between events and giving ideas for future steps.  No one has as much ability as he did at doing the necessary research we needed.  Bob Crowley, smart and hard working.  Always ready to do whatever had to be done — he could do the street work of dealing with informants or surveillance but also could assist in the more mundane office work.  Like Snow, helpful at keeping the tensions of operating in stressful situations under control.
They never gave up chasing after Bulger.  One night they put a duplicate car to his in front of his house and took his car to a garage where expert mechanics installed as secret listening device.  They brought the car back and swapped it with the duplicate.  Later that day Rowell got a call from Whitey who told him he found the device.  Rowell believed Whitey was tipped off by his FBI handler.  That's what they were up against.
Another time Bergeron was working with the DEA and had to chase after Whitey to recover another expensive bug Whitey discovered.  They met him in a garage.  Whitey lashed out at him and the Quincy police.
I tell this because I've heard people say that Whitey had some type of carte blanche from law enforcement or the cops were afraid to chase after him.  I wanted to show that was not true and make a record of the accomplishments of this small group in its effort to arrest Whitey.
From working with these men I realized how a small group of dedicated and hard-working men could accomplish much.  I'd also see this with other groups.  The state police showed this under Sgt Bobby Long when they did the Lancaster Street investigation.   None of these small, hard-working, honest groups of cops had to make deals with top-level informants to do their work.  Their work should be commended and used as an example for others to follow.  I also appreciate what they taught me in my early years and wanted to express my thanks to them.