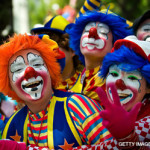 At one time not so long ago I was a Red Sox fan. It all ended shortly before the team won its first World Series in my lifetime. I found myself not really caring whether they won or not. I had lost interest.
In retrospect, one of the things that turned me off was the widespread the use of the term "Red Sox Nation." I did not hanker to be part of such a group. I suppose I'm too much like Groucho Marx who said he wouldn't want to belong to any club that would have a person like him as a member.   
In the good old days when the Sox were pretty bad I work with a guy who explained to me why that was good. He pointed out that there were always seats to be had at the park. One could decide if things were slow on a summer afternoon to shoot over to Fenway. There was always room to spread out in the bleachers. There were no crowds to contend with. One could enjoy the game and see certain players who one had been following year after year.
For several of those years I was fortunate enough to have seats in the first row to the right of the Red Sox dugout as you looked at the field. My kids could lean over and talk to the players. One of their favorites was Jim Rice (16 years with Sox) who often handed them a ball or a piece of gum.
Names I remember of the people on the team when I first got interested were Ted Williams (21 years), Bobby Doer (15 years), Johnny Pesky (13 years), Dom DiMaggio (14 years) Vern Stephens and for some strange reason Clyde Volmer. Later I would cheer for Billy Goodman (10 years), Mel Parnel (10 years) , Jimmy Piersal (7 years) and Jackie Jensen (6 years).
Yaz (23 years – 1961 to 1983), Rico Petrocelli (14 years) —  after them Fisk (10 years) , Rice and Lynn (6 years). Wade Boggs (11 years) Luis Tiant (8 years) and Roger Clemens (13 years). The last players I recall being interested in watching were Varitek (15 years) , Garciarparra (9 Years), Mo Vaugh (8 years) and strangely Carl Everett (2 years) . After that it is pretty much a blur.
On the 2004 team that won the World Series I knew Varitek, Damon (4 years), Manny Ramirez (8 years) and Ortiz (12  and counting) as well as Curt Shilling (4 years), Pedro Martinez (6 years), Wakefield (7 years), and Lowe (8 years). In the 2007 Series Damon was gone but I knew of Youkilis (9 years) along with Varitek, Ramirez and Ortiz. When 2013 arrived I only knew Ortiz. The rest appeared as a group of nameless individuals with beards. The rest appeard as if the Red Sox were only a way station on the road to another place.
Today, the only name I know is Ortiz. There are others in the past such as Bill Lee (10 years) but like Everett he was known for things in addition to his baseball skills. Basically I've run through all the names that come immediately to me. The common denominator was that many of these players were with the team for many years; they were names who became people to me and I was interested in them.
Trying to understand why I lost interest beyond the "nation" foolishness I'd guess the impermanence of the players is one factor; I used to know the lineups, now they are strangers. Or perhaps it was the ever increasing cost of going to the game or the great inconvenience it entailed?
In thinking it over I feel there had to be more to it than that. Looking back, my best conjecture is I started walking away from the Red Sox when it changed from a sport team into a business venture. That was when the present ownership took over from the Yawkey family and its trust in December 2001. I began to sense that everything was beginning to change when the bean counters with their dry charts and cold hearts started running the team. No longer would we have players stay over long periods of time. Now everything was going to be determined by the dollar sign.
The prices of tickets and food started to increase dramatically. Profit over winning seemed to be the goal. It was the beginning of the gouge which always will send me fleeing.