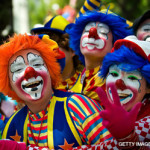 It took that new business owners a year to figure out its advertising strategy which it kicked of in May 2003 when it started to hype the fake sell-out streak which lasted until April 2013. The people who were now running the show had a slight relationship with Boston but a much closer one with the balance sheet. They were determined to make the bottom line look good no matter what it took.
Like all business people they were into advertising their product. The sell-out streak was a good idea; another was pushing out the term "Red Sox Nation" which until they took over was barely used. In fact the guy who first coined it in 1986 didn't know he had done it.  
For me cheering for a team that's nothing more than a business is like cheering for Proctor and Gamble, Walmart, Dunkin Donuts or the Fenway Sports Group. I understand people who invest in their stocks will do that; but for one not so invested it makes little difference to me whether a company beats the analyst predictions or not.
As far as I can see except for Ortiz and Pedroia (9 years), none of the players on the 2000 squad who had any impact are left on today's team. Ortiz, a designated hitter, hangs around because he's is popular with the fans and comes through in the clutch, which won't be necessary this year. He'll cost the owners 16 million next year.
I don't know much about Pedroia. He seems to have been around for quite a while. At age 30 on July 23, 2013, according to Wikipedia, he signed an eight year contract extension for 110 million. Neither man can be happy with the yearly buying and selling of players.
This year both men have dropped about 25 points in their batting average and Pedroia's on base percentage is down. I'm sure they know the management must be concerned that both men are slipping over the edge of productivity. Time to sharpen the axes?
The owners must figure the the "Nation" will buy their product no matter what the ingredients. They leave it to the fan to figure out how to cheer for players who pass by in the night and have as much connection to Boston as the Golden Gate Bridge.
Last week the ownership unloaded some of its better players apparently showing the white flag on the season. That was something that had never been done in the past. In prior years no matter how bad they were one always hoped for a comeback.
We remembered our other Boston team, the Braves, who erased a 15 game deficit in 43 games, or the NY Giants who used the same time to eliminate a 10 game deficit. The true baseball fan knows the race isn't over until the fat lady sings  just like true basketball fan knew Boston wasn't going to win until Red Auerback lit his cigar.
With the highest ticket prices in baseball, it's said it will cost a family of four close to a hundred dollars apiece to attend a game, you'd think they'd try to contend every year for the full year. You wouldn't mind so much if the ticket prices went down when the team gave up on the season but that isn't the case. Those who have already paid up for the season are stuck watching a team that's rehearsing for next year.
I suppose their recompense is that they can feel they are part of the Red Sox Nation. That might mean a lot to them but they'll still need a sawbuck to buy a hot dog and beer. Meanwhile the owners who have deliberately put an inferior product out and saved some money will have their faith restored in the observation attributed to P.T. Barnum that "there's a sucker born everyday."