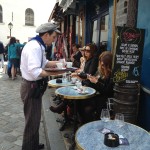 Here's a true story. As any of you who have followed me know that during my career as a prosecutor I did a lot of wiretaps. I did them in murder cases, organized crime cases, armed robberies, drug dealings, and anything that involved a group of people committing certain designated crimes. I used to also be responsible for overseeing the various task forces, state police, local police or a combination of them, and even with a police department no longer around, the Metropolitan police. They were morphed into the state police in one of those moves to streamline our ever-increasing police forces but most of its members were as different from state troopers as fish are from fowl.
One way we operated was our undercover cops doing drugs would try to locate the big drug dealers. The idea was to get the guys supplying the drugs, in this case I'm going to talk about it was cocaine. It was an enterprise of folly. We recognized that the drug use on the street would not stop. Someone always stepped in to fill the vacuum. It's simple economics, wherever there is a demand a supplier will be found and the price will depend on the risk/reward formula.
But we believed it was better to at least try to do something to stop or slow down the onrush of cocaine rather than just surrendering. Also our job description made us people who enforced the laws and since distributing cocaine was illegal, we did what we were charged to do.
So here;s what happened in one investigation. The lieutenant in charge of the drug task force, I'll call him Lt. Y, and one of the guys working in it I'll call Sgt Mike came to my office. They told me a story which led me to believe a guy named Pete was a big cocaine dealer. Sgt Mike was working with an informant I'll call Snitch.
I never knew the identity of these guys. I was told that Sgt Mike had been paying Snitch for information. Sgt Mike told me Snitch let him listen in on the telephone calls he made to Pete discussing the distribution of cocaine. This had been going on for a few weeks.
Sgt Mike would write down what was said between the parties. It was absolutely clear from the conversations Sgt Mike set out that Pete was a very big cocaine distributor. Snitch even produced a little cocaine he said he bought from Pete to back up the claims.
Lt. Y and Sgt Mike came to see me because in the latest conversation Pete indicated he was going to receive a huge shipment of cocaine and was getting all his dealers ready to distribute it widely through Norfolk County. They wanted to do a wire on Pete's phone. It seemed if this were to be done we would be able to discover Pete's whole network. I was satisfied. I did the paperwork, we secured a warrant, installed the wire, and began to listen to Pete's calls.
I usually would go to the plant where we were doing the interceptions to oversee the operation. This time I had other things happening so early each  morning I'd get copies of the logs and tapes of the prior days activity brought to my office so I could review them. About the second or third day into the tap I saw nothing to indicate Pete was dealing. If we weren't getting the information we expected then I had to shut the tap down.
I told Lt. Y and Sgt Mike I'd give them another day or two but unless things changed I was going to terminate the tap. They went out to see Snitch. They stood there while he called Pete to check about what was happening. We intercepted that call. (Snitch did not know we had a wire. We, unlike the FBI, never told anyone about having a wire.)
The contents of the call was as Sgt Mike reported. Pete and Snitch talked about the big bundle of cocaine that was going to arrive. Lt. Y and Sgt Mike left believing that would satisfy me and the tap would continue. But right after they left Snitch alone (you'll understand why you never tell a person like Whitey or Flemmi you are doing a wire or planting a bug), Snitch got back on the phone and called Pete.
They had a big laugh. It seemed that every time Snitch made a call to Pete Sgt Mike would duke him some cash. This intercepted call told us that Pete was helping Snitch make a little extra cash and that Pete had nothing to do with cocaine. It was all talk and lies. Snitch with the help of Pete was scamming Sgt Mike.
I shut the tap down before Lt Y and Sgt Mike arrived back at the office. I suppose there was no way to know we were part of a sting by two street wise guys. We hoped things like that don't happen but after all we weren't dealing with the most trustworthy individuals.
But that's not the part of the story that's significant. You can always be led down a wrong alley. The idea is when you find out its happening is to get out of it as quickly as you can and cut your losses, take your licks, and learn your lessons. But let me go on.
Several months and some wiretaps later Lt. Y and Sgt Mike came back in my office. Sgt Mike had information on this major cocaine dealer in another part of the county. He provided me with an affidavit that would have easily satisfied the probable cause necessary to submit a request for a wiretap warrant. Reading it, though, I had the feeling I'd seen this act before.
So I asked Sgt Mike if the informant he was working with was Snitch. He said it was. I told Lt. Y and Sgt Mike not to let the door hit them on the butts as they left the office. I couldn't believe Sgt Mike (and Lt. Y) were still working with the guy who had already scammed them.
To do any type of effective law enforcement work you need to work with people who are credible. To get a warrant you have to swear before a magistrate or judge that the informant has provided information that has been shown to be credible in the past. Once a person lies or give wrongful evidence he is no longer credible so you can't do anything on his information.
That applies to law enforcement and it should apply to the mainstream media. But it doesn't seem to. In the Marathon Terrorist Attack and the killing of Todashev we've been given information from media sources who have been proven wrong again and again. Yet it seems the news repeaters are still using them. It's a strange situation.