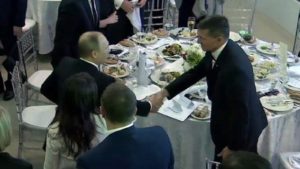 Roger Stone and General Mike Flynn who both received and accepted pardons which demonstrate their acknowledgement that they committed criminal acts have declared the Republican Party no longer exists. In its ashes they say  there is the Trump Party. Stone was convicted by a jury; Flynn pleaded guilty. Without the pardons they would both end up in prison. So it is no wonder they consider themselves the members of the Trump Party – which in a sense can be called the party of pardoned criminals.
Pardons prevent the further prosecution of the criminal act but it does not eliminate the act or knowledge of it. A pardoned person is not innocent; in fact, it is just the opposite. A pardoned person has committed a crime – "Pardon is an 'executive forgiveness of crime.'" The Supreme Court has noted: "A pardon is a deed, to the validity of which delivery is essential, and delivery is not complete without acceptance. It may then be rejected by the person to whom it is tendered, and if it be rejected, we have discovered no power in a court to force it on him." 
Basically let no one argue the Roger Stone or General Michael Flynn have not committed crimes. They have. They have then received forgiveness for it from their buddy Trump. The same applies to Paul Manafort who was duly convicted by a jury and ended up in prison.
What crimes then did these folk commit? They all related in one manner or another to intercourse with Russia. (Above photo shows Flynn shaking hands with Putin.) That is something that must be  kept in mind. It has now been clearly established that Manafort who was Trump's campaign manager colluded with Russia by turning over GOP information to it which allowed it to understand where to spread its pernicious statements undermining America.
It is dawning on more and more Americans that the Russian aided election of Trump and the four years of his divisive language while kowtowing to Putin was not in the best interests of our country. The latest polling data shows: "Among registered voters, 32% had a favorable view of the former president, while 55% had an unfavorable view. Comparatively, Trump's favorability in the same poll in January stood at 40%." Imagine dropping 8% points from an already low standing.
It should be kept in mind that Trump "will leave office with the lowest approval rating of his presidency, according to a new CNN Poll conducted by SSRS, with more Americans than ever in support of removing him from office. A majority, 54%, say Trump ought to be removed from office before January 20 . . . "
The Flynns and Stones of the world are being seen for what they are: pardoned criminals and members of the Trump Party. The above mentioned poll pointed out: "For the first time since 2019, NBC polling found supporters of the GOP outnumbered those who said they back Trump more than the party. The poll found 50% of Republicans said they support the GOP more than they support Trump, while 44% said they support the former commander-in-chief more than the Republican party."
It would be good for America if the Republican Party could come back and shake off the Trump stench. I just do not see it happening. Too many have swallowed his evil ways which follow Putin's prescription of dividing Americans so that we become weak.