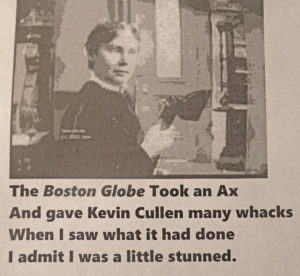 The experts note Kevin said he "spoke emotionally of a phone call with "my pal, Sean O'Brien" who was distraught over his inability to find Jane Richard's severed limb in the hope that it could be reattached. While Mr. Cullen may have known who Sean O'Brien was on the day of bombing, and vice versa, Lieutenant O'Brien told Globe editors in two 2018 interviews that he did not meet Mr. Cullen until the night after the bombing."
There is little doubt O'Brien was not Kevin's pal or friend the night of the bombing. They had never met. Kevin's discussion on CSPAN panel made it appear that he spoke to him because of the friendship. As the experts noted that most likely never happened.
Kevin had put himself in the position of doing things that others had done. He pretty much put himself in the place of Deputy Finn who spoke to him about the happenings that day at the Erie Pub. Did he deliberately lie at the panel talk or did he believe what he said. Did the trauma of the day and the drink of the night affect his memory? What he said happened most likely did; the only thing is he was not a participant in it.
I have personal experience in this area. I have two Irish friends. Good guys who have done well in their professions. One, I'll call his Mike, I've known since my old neighborhood Savin Hill. On more than one occasion I listened to Mike tell stories about his exploits. I knew these stories. I was there and Mike wasn't. I had told them to him months earlier. He just made a little difference in them by excluding me from the story and putting himself into it in my place. I had to figure he believed what happened to me happened to him. If he thought he was putting himself in my place he wouldn't be telling me the story I told him.
Another friend, I'll call Harry, has an impressive graduate degree. I've known him a long time but not as long as Mike.  I told him of an unusual experience I had when I was in the DA's office. A couple of years later he was talking to me. He told me the same story back. He changed the location of the story to his office and the identities of the people. Harry too had to believe it happened to him.
I have to believe neither Mike nor Harry think they are making up a false story. They have put themselves in my place and believe it happened to them. I'm not saying Kevin did that but it sure looks like he became Deputy Finn in his mind.
Then again Kevin may have been engaged in a bit of hyperbole. Let him who hasn't throw the first stone. It was mindless banter or embellishment. It is just he inserted himself in the place of others so that he could look a little better. No one was hurt by it. It was close the truth as he recalled from a night of despair and fright. Then again keep in mind Kevin could have used as a defense that he could not help it because he's Irish.
Perhaps the experts were aware of this. They did note that "Mr. Cullen's writing style tends to be sentimental, particularly in his columns about firefighters, military veterans and Irish or Irish-American characters around the city." If that is said of his writing style imagine how much more it would occur when he is playing to a live audience. The temptation to inflate must be overwhelming.
Kevin's sins are venial, if that. He did nothing for profit. He showed no bias to any particular group. He enlivened his columns with his skillful writing and his talks with a bit of blarney. No one was damaged or hurt by any of his alleged sins. He may not have told the whole truth but then again who does despite the Globe's belief that it does. This whole affair was really a clear example of a tempest in a tea pot.
In these days of declining newspaper coverage (reportedly the Herald circulation is less than 45,000 papers a day) we need more Kevins working the streets. If the Globe  really believed, as its report said, in "fairness at the Globe, hour by hour, day by day" it would not have called Kevin's actions "serious violations." They were minor. To find them the experts and the Globe publisher and editor ignored the pressures on an everyday working columnist caught up in a terrorist bombing  where three were murdered and hundreds maimed had to be ignored. Kevin was on the street digging up the facts the best he could, those others were ensconced in their comfy homes.
Cullen should be praised rather than whacked. I'm sure he felt like telling them to take the job and shove it. I'm glad he didn't. It would have been a big loss to Boston.