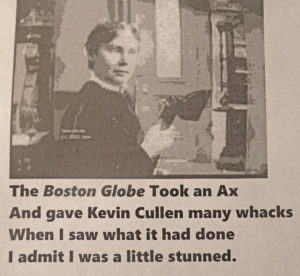 The experts after discussing the April 16 day after the bombing column which was written on the day of the bombing moved on to subsequent actions by Kevin Cullen. Prior to doing so they reported about the April 16 story: "We find no evidence to support the allegation that Mr. Cullen intended to mislead readers with
his choice of words. To the contrary, to our knowledge Mr. Cullen has never claimed to have been on the scene, either in the hours and days after the bombing, or in subsequent years, in his  writing or in public statements. Indeed, he told several interviewers within hours after the bombing that he was about a mile away inside a restaurant in Kenmore Square."
These subsequent actions the experts focused on were not matters he wrote about in his column. The great fault the experts found occurred on August 13, 2003, during a panel discussion aired on C-Span five months after the bombing.  As I mentioned yesterday, the experts were under pressure to find something. We've gone from noting Kevin erroneously wrote that Martin's father ran in a race to this panel discussion. Kevin was recalling what happened on that traumatic evening when the air was rife with rumors and the culprits were still at large. I don't know whether Kevin imbibes or not but you have to keep in mind the Erie Pub is not known for selling soda and recollections from having spent time there may be a wee bit faulty. Kevin says he called in the story of the father around 10:00 p.m. The Globe computer showed the story was added at 12:30 a.m. It was a night of confusion.
On CSPAN Kevin told a story of that night. "I particularly knew Sean O'Brien, he's a friend of mine… After writing my column, I stopped off at the Eire Pub in Dorchester… As I was walking into the Eire Pub, Deputy Fire Chief Joe Finn, a great fireman, grabbed me. He had his iPhone. He said 'This is Sean, Sean O'Brien. I can't get him out of the house.' "And he goes, 'Talk to him.'" . . . And I go, 'Sean, it's Kevin…. Why don't you come out? Come out and have a drink with me and Joe.' .  . . He says, 'No, I don't want to come out. I don't want to come out.' . . . "And I said to Joe, 'Joe, was Sean at the scene?' And he said, 'Well, Sean found the kid,' and that's when I found out that the boy had died. "And I wanted to kill Joe Finn when he put me in that spot."
The best evidence is none of that happened as best we can tell other than Kevin did meet with Joe Finn at the Erie Pub.
Two months later Kevin wrote: "As I walked toward the pub entrance, I noticed Joe Finn, . . . talking on his cell phone and motioned me over with one hand. He ended the call and said, 'I was trying to get Sean O'Brien to come out, just to talk.. . .  I knew Sean, so I said, 'What happened to him?' "'He was there,' Joe Finn said. 'He was there with the little boy who died.' "That's when I first learned of what happened to Martin Richard and his family."
It is unlikely the best evidence shows most of that happened. Kevin may have seen Finn on the cell phone but Finn was not talking to O'Brien telling him to come out to talk.
The experts found "neither Chief Finn nor Lieutenant O'Brien recall talking to each other by phone that night, although they said it's possible." It is possible but unlikely.
The  best we can tell what happened is that Finn talked with Kevin at the Erie Pub and told him of his earlier interaction with Sean O'Brien. Finn recalled talking to and having a beer with O'Brien at another pub, J.J. Foley's earlier that evening. O'Brien must have been in tough shape because Finn said he told him to go home to his wife. The experts wrote: "O'Brien said he recalled having a beer with Chief Finn and another firefighter at that pub, adding: "I didn't know what I was doing and they said, 'You've got to go home and see your wife.' " It is unclear what role O'Brien played after the bombing but it seems he was not in the best of shape and was suffering some trauma that Deputy Finn was concerned about.
The experts would also talk about the relationship between Kevin and Sean O'Brien. I'll go on tomorrow.